No matter where you go, listening to music is enjoyed by people of all ages. New technology has made it easier than ever to store music files. If you're interested in consolidating your music onto one device, it's never been simpler with Android music manager applications. Here is our list of the top 5 Android music managers: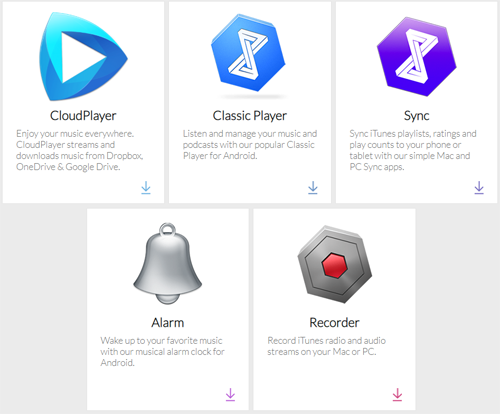 The Double Twist application is available for both Mac and Windows computers and can be downloaded to your mobile device for optimal use. Music syncing can also be done wirelessly, but both the computer and mobile device must have the app installed in order to have full control over the music.
If you want to do this, you need to open the app on your computer and import it into your playlists. You can also pair your chosen device and pick the items that you desire to sync. Then, you can begin importing your files.
Winamp is a music manager that is renowned among digital-savvy users. It's a great way to manage your Android music library on your smartphone or computer, and it provides a variety of features to make your experience seamless. It has a simple, intuitive user interface as well as a wide range of features, allowing you to both manage and play media files. You can also sync your media files with the Winamp app which is considered to be a one-stop solution for music management.
Additionally, Winamp offers free music, wireless syncing, and access to more than 50,000 internet radio stations. Once you've downloaded the app, you can download media files such as songs and videos to save in the Winamp media library, which maintains a record of all your music, videos, and podcasts.
Its cross-platform capabilities mean you can use it on any device, no matter where you are. You can even sync your music library between different devices, giving you access to your favorite tunes on the go.
iSkysoft Phone Transfer is an app that makes switching to a new phone a breeze. It allows you to easily transfer your personal data such as contacts, photos, music, messages, apps, and more from one phone to another, without any data loss. It is compatible with both Android and iOS devices and supports over 3,500 phones, including Apple, Samsung, Huawei, HTC, LG, Sony, and more.
It also supports various networks, such as Vodafone, AT&T, Verizon, T-Mobile, and more. With the help of iSkysoft Phone Transfer, you can transfer your data with just a few clicks and without any hassle.
Airmore is a great app that allows you to transfer music from your mobile device to your computer, and vice versa, without the need for any cables. It uses a wireless connection to sync the process and is light on memory, meaning it won't take up too much space on your device. This app also allows you to manage your phone through a computer browser.
AirMore provides secure HTTPS file transfer, which is as secure as Dropbox and Facebook. They use the latest and most advanced technology to make sure that all your data is properly protected while in transit. With AirMore, you can rest assured that your files will stay safe.
Android and iTunes are often thought not to be compatible, however, if you have an android device and would like access to iTunes' features, then iSyncr is the answer.
iSyncr is an app that allows Android users to sync their music with an iTunes library on a Windows PC – no need to buy an Apple device.
It allows you to keep your iTunes library on your PC and sync it with your Android phone, so you can access your music and other media files on both devices. The app is easy to use and provides a seamless way to transfer your iTunes library to your Android device.
With the above Android Music Manager, you can enjoy music without the fear of losing your media files. Music is a way of releasing one's stress and tension. It is a form of entertainment that can make you feel relaxed. You deserve to keep it secured with the help of an Android music manager. Get yours now!