Cycling apps can help to provide a better biking experience, including tracking, direction, and other features. Here are 5 of the best cycling apps on Android: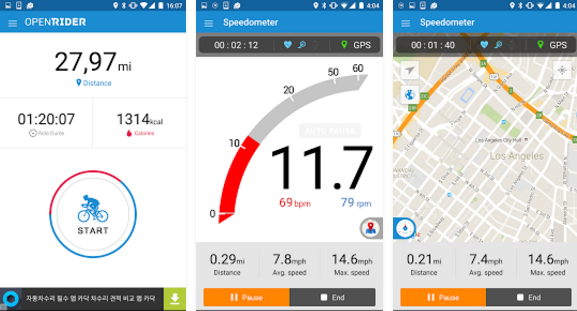 OpenRider is an excellent app you can use when you want to check maps during your bike rides. The app implements GPS tracker and also a speedometer to display your speed.
There's more! The Android app also tracks/logs your distance and duration. The app also informs you of the number of calories you've burned while riding your bike. Then after you're done your bike trip you can check the stats in history and share data with friends using Facebook or Twitter. You can sync your data to Google Fit, S Health and Strava.
The premium version offers more features:
2 more customizable speedometer skins
Training for Heart rate and RPM skins
Downloadable offline maps
Smart Watch Heart rate sensor support
Ads-free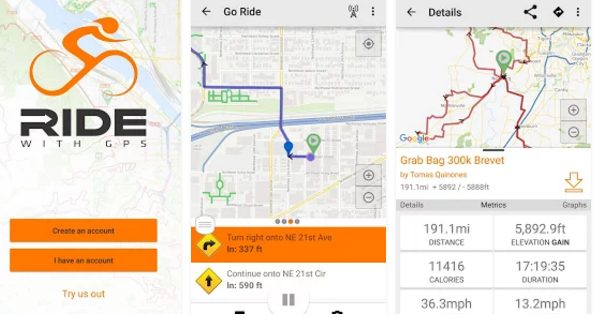 Ride with GPS's core feature is to track and save detailed sets of data about your rides. That includes GPS-powered route taking and tracking of calories burned. You can also get stats about distance/duration. Then when you're done riding your bike all the data is compiled in a neat graph.
The app allows you to take photos using your preferred camera app, and associate it with your current position in order to make your ride more memorable and enjoyable.
The app also supports all Bluetooth Smart (Bluetooth 4/BTE/BTLE) sensors, as well as Polar and Zephyr regular Bluetooth heart rate sensors.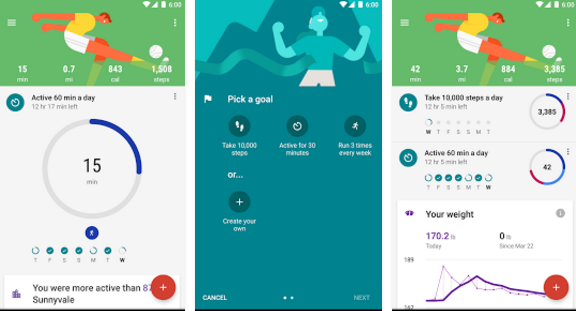 Google Fit is developed to effortlessly track any activities. As you walk, cycle or run throughout the day, the app automatically logs them. This allows you to view all the cycling data in one place.
Google Fit records your speed, pace, route, elevation, and more so you can get a detail about your routine. You can also view other types of fitness data to get an overall snapshot of your general health. And the data can be seen anywhere.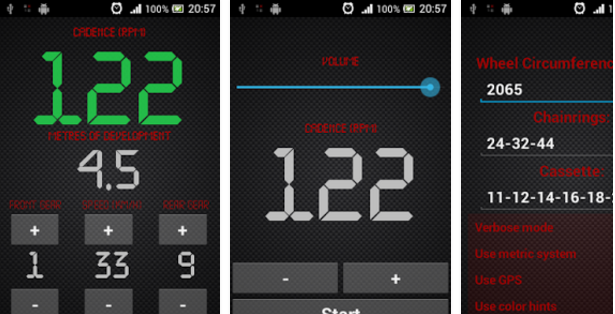 This is an easy to use app to calculate your cadence when you are cycling. It is suitable when you want to track your bicycling habits or just want to know your pedaling speed when riding a bicycle. It has a built-in manual for you to check the normal rate and compare it with yours.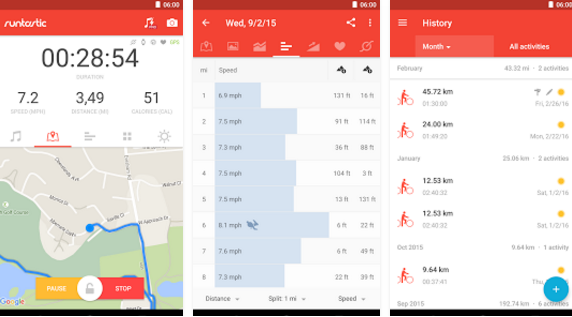 Runtastic is famous for its fitness apps. This version is developed for cyclers. It tracks/collects different data sets about rides, including speed, duration, distance, elevation, calories burned, etc.
It can be used to search for bike routes or track/map your map when you ride a bike. Your path is tracked and showed up on Google Maps app's interface.