Are you looking for a suitable hotel for your upcoming trip? There are many available include ones for Android devices. Here are some of the best Android apps to find lodging when you're on the road during a summer vacation or business trip: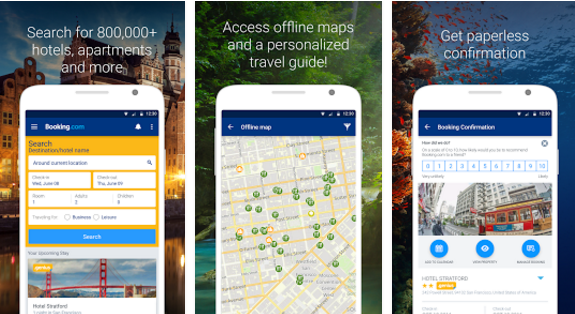 Kayak is an excellent tool if you're looking for either hotels or flights. Its database includes hundreds of travel sites. If you're looking for flights, the app tells you if flight prices will drop on particular routes. You also have the ability to book flights with a hotel. It is great when you can reserve a flight and hotel from one place. Kayak is a must-have app for planning a trip.
This is one of the most downloaded hotel-booking app, which shouldn't be a surprise due to its brand name, which has been in business since 1991. Why should you consider Hotels.com? It is a feature-rich app which allows you to find a hotel room just about anywhere. Hotels can help you to search for a fast and secure way to make a hotel reservation. It is a basic but important feature which determines whether one should pick that app.
Do you know that if you collect 10 nights with Hotels.com, you can get 1 free with their Hotels.com Rewards? The app supports Facebook login so don't worry about managing account.
Booking.com boast over 800,000 properties and 52 million verified guest reviews, which means you can literally stay anywhere at a good price using Booking. Booking provides instant confirmation, and paperless check-in and offline maps for every booking. You can filter and sort hotels in different criteria such as country, city, hotel name, price, review, and even Wifi.
Expedia is designed to be all-in-one solution for planning a trip. You can use Expedia to book hotels, flights, and rental cars. Expedia offers bundles to help users save money. You can save up to 40% with mobile-exclusive hotel deals. Expedia is your perfect companion on any trip. You can view upcoming trip details, hotel information, receive alerts for flight delays, hotel check-out times, and share itineraries with friends or family.
Are you looking for the best deal? If so then trivago is a great choice. That's because trivago browses and compares over 1 million hotels from more than 250 booking sites worldwide to suggest the best one for your particular needs. Last-minute deals and discounts is an excellent feature will help you save you a ton of time and effort.
This isn't technically a hotel booking app. However, you can find several user reviews of hotels. This will help to find which hotels are the best ones to stay at. You can also see the average prices per night for various hotels. It is a must-have app for every traveler.
Those are some of the top Android apps to book a hotel room before your next trip. Always make sure to look around to find the best hotel at the best price. Taking this basic step can help you to avoid choosing a bad hotel or paying too much for it.