Today's campers have a wide range of tents to choose from. They can find an ultralight tent designed to handle every weather condition or a multi-room tent fit for a king.
Dome tents
Dome tents got the name thanks to their shape, which looks like a dome. They have 2 poles that are connected in the middle, and they are shaped to reach the corners of the tent. Dome tents repel water and rain better than other types.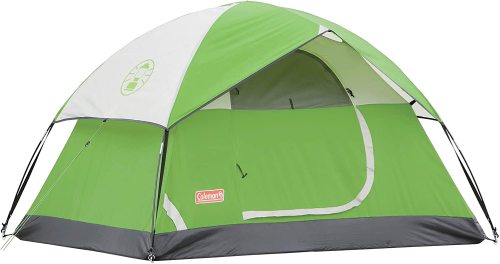 The whole gang can sleep comfortably in the Coleman 10'x10′ Sundome Tent. Measuring a full 6 feet high at the center, the tent sleeps five people comfortably with plenty of room to move around.
Inflatable Tents
Inflatable tents use air to form poles that are used instead of metal construction. You will need an air pump to complete the process. Inflatable tents are still new to the market but there are many models and variations.
A-frame
A-frame tents have the obvious name. They have 2 poles that form A formation and, in some situations, may have an additional pole in the middle. Ropes are used to secure the tent. These are extremely stable and easy to set up.
Backpacking tents
These are small tents that a person can carry in his backpack or on the back. They offer space for 1 or 2 people and can be set up within minutes. Most are made from high-quality materials and offer decent element protection.
Tunnel tents
Tunnel tents look similar as dome tents, but they are longer in the middle section. The design makes them look like a tunnel, hence the name. They are complex to set up, and a simple model may use multiple poles and additions.
Geodesic tents
Geodesic tents are a variation of dome tents. They have more poles that form the construction with a triangle layout. Semi-geodesic tents are similar but aren't as strong.
Multi-room tents
These models come in various shapes but they always have more than one room inside. Most units come with 2-5 rooms, divided by a divider. The design is based on a house layout. Setting one up can be a complicated and time-consuming process.
Pop Up Tent
As the name suggests, these models have pop-up design. The poles will pop up in place when needed and form a construction. They are very new to the market and do come in various sizes and shapes. Ideally, you would use one for a short period of time.
TeePee tents
These are the oldest of them all. They have a cone shape and they look like old tents Indians used while back. Although the design may be old, the materials used in modern models are far from old. They are made from durable, strong, and easy to use materials.