In today's business environment, having a great landing page is essential for a successful website. A well-crafted landing page can make all the difference in driving user engagement and capturing leads.
Fortunately, there are many tools available to help website owners achieve their desired results, such as landing page builders. Landing page builders make it easy to create compelling pages that draw visitors in and capture their attention.
In this article, let's take a look at 10 of the best landing page builders available on the web today.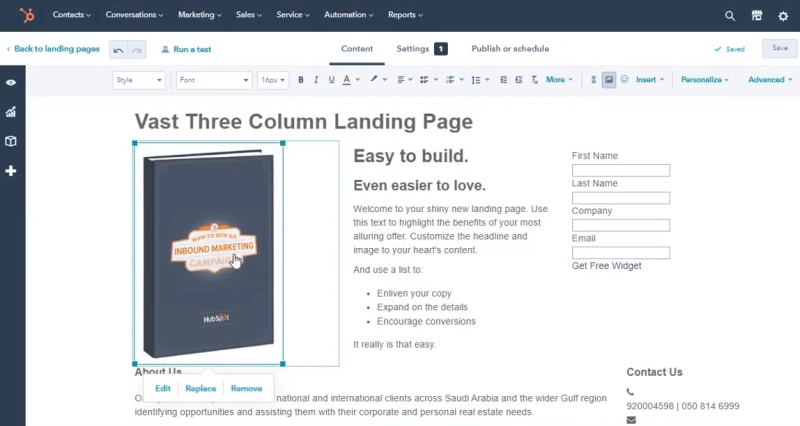 Hubspot is optimized for both large screens and mobile devices and allows easy and straightforward customization. It features 13 free templates and plenty more through its own marketplace. It is compatible with other Hubspot tools and comes with more pricing plans – including a free one.
Instapage gives you full control over your landing page with more than 200 templates and deep customization. You can simply drag and drop items around the page in terms of design – no experience is required. It interacts easily with other platforms and features pixel-deep optimization.
Unbounce features premium plans only, but it also has a free trial to give you some hints about what to expect. You have a drag-and-drop type of design and over 125 different templates to choose from. When it comes to extras, you have sticky bars or popups. Also, all pages are mobile-optimized.
Boosting a free plan and a few premium packages, Elementor is exclusively designed for WordPress websites only. Its plans depend on the number of websites you want to use it for – not the actual features. Moreover, there is drag-and-drop functionality, a popup builder, dynamic content, and theme design.
GetResponse gives you access to thousands of Shutterstock photos to use in your website design. Marketing is not overlooked and each package has a bunch of tools you could use. Once your page is done, you can publish it on your own domain or simply use a GetResponse subdomain.
Leadpages is straightforward and has a quick learning curve. There are more than 150 templates and each of them can be customized to your needs. You can design stuff by using the drag-and-drop builder and you also have access to some conversation boosters, such as alert bars. Payments can also be integrated.
Clickfunnels may not provide as much customization as other platforms, but it is easy to use and offers great solutions to complete newbies. It is built to generate sales and leads and run online events. There are plenty of built-in tools for easy customization too.
Wishpond is optimized for mobile uses and comes with 100 different templates and great customization. You also gain access to a plethora of marketing functions, A/B testing, and a trial. There are no free plans. Moreover, it provides more functionality than just a basic landing page builder.
MailChimp is pretty basic. There are no fancy bells and whistles or sophisticated functions. Instead, it is about practical uses for newbies. It allows drag-and-drop designs and comes with a free plan and some premium subscriptions. The platform is easy to integrate, as it can copy the content from your website into the builder.
Wix has just over 30 different templates – not a great diversity, but more than enough for a quality landing page. It allows building more than just a landing page though – you can also come up with stores or portfolios. It is easy to use and has a free plan as well.