Hope County, the main location in Far Cry 5 and Far Cry New Dawn, has always been a big place. You will always find yourself miles away from your destination. It takes ages to go to different locations just to collect resources or carry out missions. That's why we need Fast Travel.
Fast Travel has always been available from start in any previous Far Cry games. But in Far Cry New Dawn, Fast Travel is locked behind Expeditions, one of your home base's facilities.
Expeditions Levels and Fast Travel Features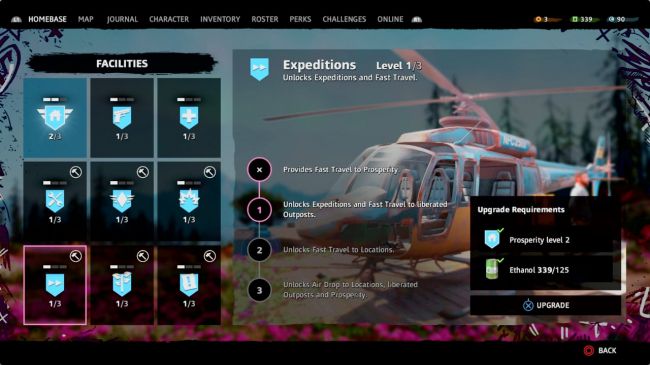 The first time you unlock Expeditions, you can start fast traveling to liberated outposts. This will start help you save time traveling between locations. Increasing Expeditions can help you unlock other small locations in-between outposts. You need Ethanol to upgrade facilities.
Expeditions Level 1 (75 Ethanol required) – Unlocks liberated Outposts
Expeditions Level 2 (125 Ethanol required ) – Unlocks Resources' Locations
Expeditions Level 3 (250 Ethanol required ) – Unlocks Air Drop to Resources Locations, liberated Outposts, and Prosperity