If you're a manga and anime fan, you need the right apps to keep up with your favorite genres. Here are 8 of the best Android apps for manga and anime fans. With these apps, you can keep up with the latest releases, read comics and manga online, watch anime episodes, and more!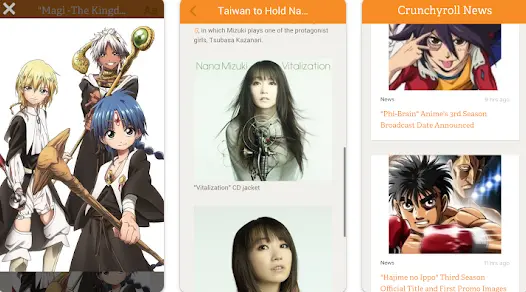 The Crunchyroll News app is the best way for anime fans to stay up-to-date with the latest news from Japan. Updated multiple times a day, the app provides breaking news stories, exclusive features, reviews, interviews, and event reports.
With a team of international reporters, Crunchyroll News covers all the latest developments in anime, manga, cosplay, and Japanese pop culture. In addition to news from Japan, the app also covers geek-related happenings in US media, including movies, TV, games, and much more.
If you're a fan of manga, then you'll be happy to know that VIZ Media has the legal right to publish translated manga. This means that you can buy manga volumes from all your favorite series, read free previews or subscribe to Weekly Shonen Jump Alpha and get access to new chapters every week.
Plus, with Viz's digital subscription service, you'll get even more manga for your money. Unlocks the digital vault of 15,000+ manga chapters for ONLY $1.99/m members get more!
Crunchyroll is a digital Manga app that provides users with unlimited access to a variety of trending and popular Japanese manga. As soon as it hits newsstands in Japan, Crunchyroll Manga users can read the latest from hit titles like Attack on Titan, Fairy Tail, and One Piece. For premium users, they will be able to access the latest manga right after they become available in Japan.
Being a premium user has its perks as you will be able to: fully mobile support the app on both iOS and Android devices, including 'Koma-View,' which allows for a maximum scale per panel when reading; view the entire series catalog anytime, anywhere; and have unlimited reading access. If you are caught up on all the current releases or want to jump back and catch up on reads, Crunchyroll Manga is perfect for you as it offers a wide range of selections.
If you love Japanese anime's voice, this app is a must-have alarm clock app for every "little sister MOE". The app will wake you up with more than 500 voice patterns. You can change costumes or the cosplay of the character.
Your little sister comes to wake you up. Pat her on the head and thank her. Kawaii little sister is delighted and happy. You wake up easily, feeling good.
You can touch and pat her while on standby. The app also supports both big brothers and big sisters. Sometimes, the character tweets on her own too.
Akiji is an Android app that offers a convenient way to read the latest news about anime, manga, and Japan. With Akiji, you can have access to background information about upcoming anime and manga releases, read the latest articles about Japan, and more.
Akiji's powerful search function makes it easy to find the information you need, and news articles are automatically made available offline so that they can be easily read on the go.
Anime & Manga Amino is the perfect place for fans of anime and manga to connect. With thousands of communities based on fandoms and interests, there's bound to be a community for you. You can join up to 100 different communities and view content from fans for fans.
With Amino, you can find communities based on your favorite fandoms and interests, and join up to 100 different communities. In these communities, you can create and view content from other fans, discuss your favorite scenes and characters, share your cosplay costumes and experiences from events, and more.
Plus, with Amino's messaging feature, you can easily connect with new friends from around the world.
If you're an anime fan, then you'll love Anime Radio. With this app, you can have access to a wide selection of anime music stations, your favorite artists of JPOP, JRock, Kpop, Krock, and songs of your favorite animes from more than 85 radio stations.
You can listen to a large selection of anime and Japanese music stations, and the songs of your favorite animes all in one place. And with more than 85 radio stations to choose from, you're sure to find something you like. Plus, you can see the name of the song being played if this is available. And if you have a favorite station, you can choose it and access it easily.
Anime Radio also lets you enjoy radio stations from all over the world. So whether you're a fan of Japanese anime or not, there's something for everyone here. Plus, if a station doesn't work after 3 attempts to connect, you can report it as fall and look into it as soon as possible.
Japanese is a notoriously difficult language for English speakers to learn. One of the best ways to learn Japanese is by watching your favorite anime. With the Anime Japanese app, you can learn common phrases used in manga and anime, as well as more colloquial or vulgar words.
The app provides a thesaurus of classic Japanese phrases, short sentences from anime conversations, and a Japanese syllabary chart to help with sequential memory. Whether you're a diehard Otaku or just looking to learn some basics, Anime Japanese is a great way to improve your language skills.