Japanese animated shows, or anime, have been gaining fans all around the world, and manga, the comic book version, is riding that wave too. In fact, many anime shows are based on manga. But if buying new manga books is burning a hole in your wallet, don't fret; there's a solution online.
There's an awesome array of websites out there dedicated to manga. Whether you're after big-hit series or want to explore something new and less known, these sites have got your back. They offer this manga in crisp, clear scans so anyone can read them. It's your ticket to staying up-to-date with all your favorite manga without spending a dime. Enjoy the adventure from the comfort of your screen!
Crunchyroll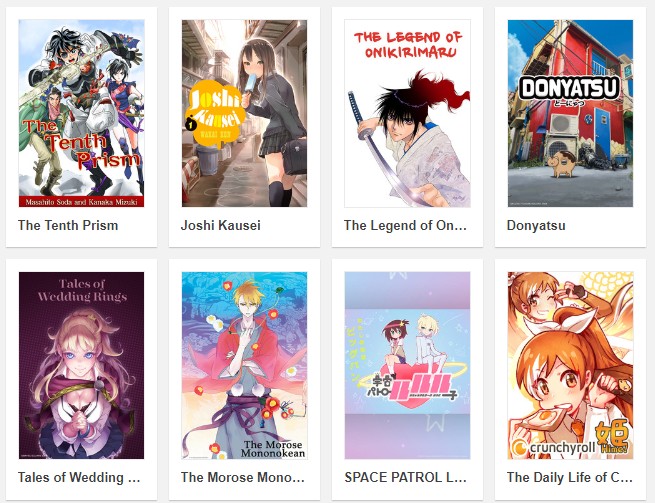 If you're a fan of anime and manga, you've probably heard of Crunchyroll. It's like a treasure trove for enthusiasts all over the globe, packed with an amazing array of manga and a bunch of anime shows to boot.
Do you like a smooth and hassle-free experience? Crunchyroll's got that, with a neat design that makes it easy to find what you're looking for. You can even read some manga for free. But if you want to kick those pesky ads to the curb and get the best of what Crunchyroll offers, there's a Premium membership waiting for you.
At $7.99 a month, Crunchyroll Premium not only lets you into the world of anime and manga on the site, but you can also dive into what they call "simulpubs." That means you get to read manga at the exact moment it's released in Japan.
Manga Kakalot
Manga Kakalot has quickly risen as a popular site for manga lovers. Its extensive collection and user-friendly design offer an enjoyable reading experience.
What sets Manga Kakalot apart? Variety! You can enjoy 40 different genres, so there's something for everyone. Whether you're after the big-name series or hunting for something off the beaten path, Manga Kakalot's got you covered.
Its user-friendly design only adds to the joy of discovering new reads. A true feast for manga fans, no matter what you're into!
Manga Owl
Manga Owl is an excellent site known for its unique orange-themed interface. Not only does it offer an extensive catalog of manga, but it also provides recommendations based on your reading habits.
Manga Owl is like a massive library for manga enthusiasts. With more than 100 different genres available, you can bet it's got something for everyone, even if you're into something pretty unique.
But if romance is your thing, oh boy, you're in for a treat! Manga Owl's romance collection is gigantic.
The comment sections on each page foster a community feeling, making it more engaging for the readers. Manga Owl's well-categorized selection and responsive design add to its allure.
Manga Reborn
Manga Reborn is like a bridge that connects English readers to the lesser-known world of manga that often stays hidden within Japan. Why does this happen? Well, translating manga from Japanese isn't always an easy task, and many smaller series just never make the jump to English.
Manga Reborn wears its name well, aiming to bring lesser-known manga to life. The site focuses on indie manga and offers a platform for budding artists to share their work.
With the help of some awesome volunteer translators, they take these little-known series and make them available for a much bigger audience.
Offering manga in various languages, Manga Reborn embraces a global audience. It's more than just a reading site; it's a community for both readers and creators.
It's all about sharing the love of manga and making sure nobody misses out on a great read, just because of a language barrier.
Comic Walker
Comic Walker is a major manga hub in Japan. What's great about it? If you're not a Japanese speaker, no problem! You can just switch the language to English, and voila, you're all set to enjoy your reading.
Comic Walker is a site that impresses with its sleek design and robust collection. Not only does it offer some of the latest releases, but it also provides classics that every manga fan will appreciate.
The interface is intuitive, and the navigation is smooth, making Comic Walker a joy to browse through. It's a dependable option for both casual readers and die-hard fans.
Book Walker
Book Walker is a one-stop destination for digital books, including a massive collection of manga. Book Walker is more than just a place to browse manga; it's a shopping paradise for manga lovers!
Looking to own some titles without breaking the bank? You're in luck because this site often offers some fantastic discounts.
Once you snag a title, you can read it right in your browser. No fancy gadgets are required, just a regular viewer, and you're good to go.
And keeping track of your collection? Easy-peasy. All your downloaded manga are right there in your booklist. It's like having a personal manga library at your fingertips!
Its compatibility with various devices and easy-to-use app make Book Walker a convenient choice for reading on the go. If you're looking for both free and paid options, this site should be on your list.
Kiss Manga
Kiss Manga has been around for quite some time and has become a go-to site for many manga readers. Its exhaustive library and daily updates keep readers coming back for more.
If you're on the hunt for a particular manga, this site makes it a breeze to find what you're after. Plus, you can easily find out what's hot in the manga world by checking out what other readers are enjoying. It's all about making your manga reading experience enjoyable and effortless.
The site's layout might seem a bit dated compared to others, but don't let that fool you. Its content richness and community-driven aspects are what truly set it apart.
Readm.org
Last but not least, Readm.org is a solid platform with a growing community. The simple design, combined with a robust catalog of manga, makes it an appealing choice for readers.
Right on the homepage, you'll find a selection of the hottest and most beloved manga series. The layout of the site is sleek and user-friendly, so you can easily find your way around the different genres.
A user-friendly interface and regular updates keep the content fresh. If you're looking for a dependable and straightforward site to read your favorite manga, Readm.org might just be the answer.