Construct is an HTML5-based 2D game editor, developed by Scirra Ltd. Construct is fully featured game development tool known for it's constant updates and improvements.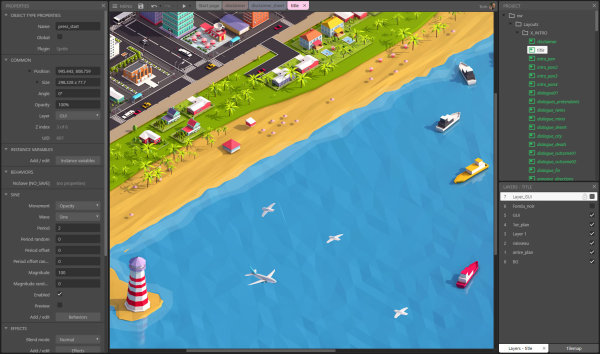 The engine allows non-programmers to develop games using visual elements. Games made with Constructs can published to Steam, iOS, Android and a few of other places in a few easy clicks.
Tutorials and Courses
Official tutorials – With over 50+ tutorials from basics to advanced topics, this website should be the first place for anyone who wants to make games using Construct. You will learn evereything about the engine and its capability here, from using the UI to make a game in a genre like RPG, platformer.
Learn to Code Video Games: Complete Guide to Construct 2 & 3 – This is a hands-on guide to learning Construct 2 while building many complete video games from scratch. They teach Construct by showing how to make games like maze, blocks, Angry Birds-like, car racing, etc…
Construct 3 – The Complete Game Creation Learning Course – This course is a complete guide on how to develop games with Construct 3. You will learn to create a flappy bird clone, a fully featured platformer game, a match 3 game, export construct 3 games to android and iOS, special effects, fire, rain, shadows, access camera, geolocation, several kind of physics games, create multiplayer games, and a pseodo 3d game from scratch.
Game Templates