Construct is an HTML5-based 2D game editor, developed by Scirra Ltd. Construct is a fully featured game development tool known for its constant updates and improvements.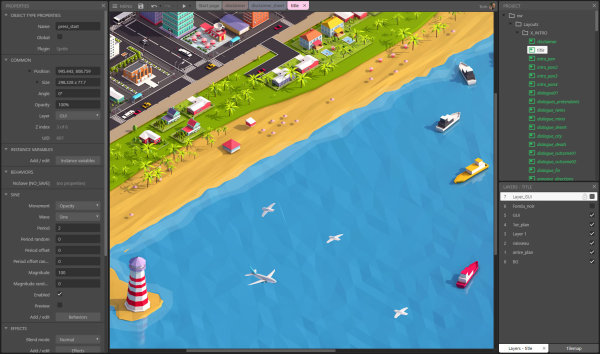 The engine allows non-programmers to develop games using visual elements. Games made with Constructs can be published to Steam, iOS, Android, and a few other places in a few easy clicks.
Construct 3 is a powerful, intuitive game engine for making HTML5 games.
It has an easy drag-and-drop interface and comes with many features like full web export, one-click publishing to Google Play and the Apple App Store, multiplayer support, built-in physics simulation (Box2D), and more.
You can make your own games without any coding knowledge or experience.
With Construct 3 you don't need to learn how to use complex software suites like Unity or Unreal Engine because it's already built in!
There are also plenty of tutorials on YouTube that will help teach you how to use the program – this cuts down on time spent figuring things out yourself!
Tutorials and Courses
Game Templates