International kpop fans have always struggled to get kpop merchandise. While such shops do get experience a rise in notoriety, the truth is that getting online is still your best bet. Here are the most popular kpop online shops, as well as their pluses and minuses.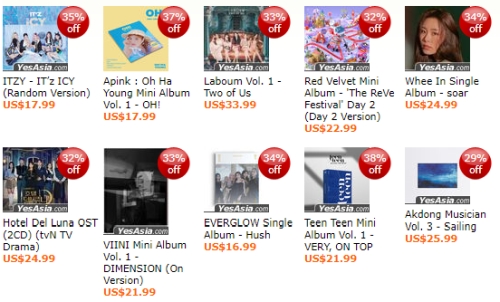 Yesasia dominates with a top-notch customer service and a straightforward website. The shop is quite flexible and can deal with last minute changes. The free shipping for certain orders adds to its reliability, while the merchandise is varied. However, receiving your stuff may take a while.
Catchopcd is all about efficiency – decent prices, shipping times and packaging. It's not the largest kpop online shop in the world, yet you'll always find new releases. It's hard to find old albums though. Shipping is not free, but lower prices compensate for it. On a negative note, Catchopcd doesn't provide pre-order options.
Kpoptown is based of balance – nothing fancy, but nothing to complain about either. Prices depend on the merchandise, which is diversified. Buy in bulk and you'll actually save some money. Although this shop doesn't really stand up in the crowd, it will get the job done.
Kpopmart allows pre-ordering albums and ensures you get your stuff in perfect condition. Prices are somewhere in the middle range, but the merchandise is diversified. Although shipping might be slow, the customer service will send you a picture of your stuff before sending it. Kpopmart has a negative history regarding signed albums, but the shop doesn't sell such things anymore.
Ktown4u draws some positive attention by keeping prices under the market. You have multiple shipping options, yet it depends on what you buy – more items will surprisingly increase the shipping rate. The shop allows pre-ordering albums and wraps merchandise to ensure it will get to the buyer in good condition.
Gmarket provides some of the best prices in terms of kpop music. Moreover, the merchandise is extremely varied. You can even find old school albums from the beginning of kpop. You have daily deals and discounts, yet some products are advertised in Korean and not in English. Shipping costs depend on your order. The more you order, the lower your shipping expenses will be.
Unlike some other shops that caused stir by selling fake signed albums, Mwave is all about making customers happy. You can be 100% sure that certain stuff was actually signed by the artist. Music is not everything. Mwave also sells postcards and other printed stuff. Stocks keep rotating and there are no guarantees, so once you find an album you like, wait no more.
Ebay and Amazon are the largest shops out there. Chances are you'll find anything related to kpop. But then, they sell stuff through multiple sellers, so you have no idea in terms of packaging. Also, Ebay and Amazon are more expensive than specialized stores.