jQuery Plugins to create fixed elements on a webpage allows it to be visible to the users no matter how far they have scrolled. The fixed elements are easy to place. You can use CSS and write a single line of code to achieve a simple fixed element. However, for positioning a dynamic fixed element, you need complex jQuery and JavaScript. You can also use jQuery Plugins to quickly create dynamic fixed elements.
The top 5 jQuery Plugins to create fixed elements are listed below: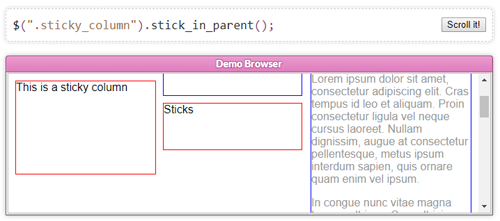 Sticky Kit is a free and lightweight jQuery Plugin for creating a smart sticky element on a webpage. It is an easy Plugin to use to attach an element on a webpage. Regardless of how much a user scrolls the page, the Sticky Kit plugin will make the element visible to the user at all times. Sticky Kit avoids scrolling lag by using a light scroll handler which runs on cached values. This plugin also supports all types of browsers and IE7+.
ScrollToFixed jQuery Plugin is used to fixed elements on the webpage; top, bottom, or anywhere. It also allows the fixed element to be visible even in a horizontal scroll. With the option marginTop, the fixed element will cease to move vertically once the vertical scroll reaches the target position. However, the fixed element will continue to move left to right when scrolled horizontally. The element will come back to its original position once the page is scrolled back past the target position.
Headroom.js is a lightweight JS plugin that will make sticky header smart by making it hidden when the user scrolls down the page and reappears when scrolled back up. It is an easy jQuery plugin to help you change the position of the element as per the user's scroll. This plugin has no dependency and therefore will not slow down the page's performance.
Waypoints is another lightweight jQuery plugin that come with a shortcut function that allows you to easily and quickly change the position of the fixed element that occurs in the viewport. It is also supported by various browsers.
ScrollMagic is a lightweight and easy to use JS lib jQuery plugin. It comes with advanced features that allow you to add interaction during a scroll, animate scroll and also synchronize it to the scroll bar movement. It can easily add parallax effects to web pages.