It is quite challenging to budget money especially if it is not that much. It can be difficult as well if you have more expenses than income. So it is good to do some budgeting to be able to meet the budget that you wish to have. There are ways to do budgeting or money management. You can do it manually like putting together your expenses and income on your notebook or by using an app. You can download the app to your Android that can help on your budgeting. Below are the 5 best free money management apps for your Android phone.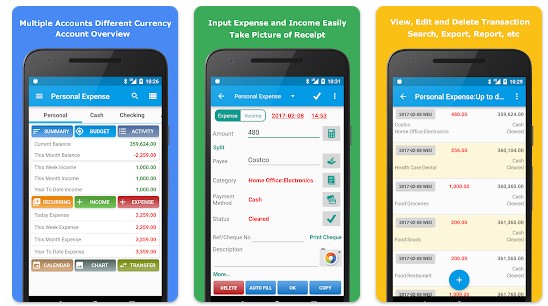 The Expense Manager app is the most popular app for money management, allowing users to get a detailed overview of their income and expenses. Expense Manager is simple, intuitive, stable, and feature-rich, making it the perfect app for managing your finances. The app includes visualization of your funds over a range of timeframes, including months, weeks, and days. This ensures that you never miss an expense, and allows you to track your spending patterns easily. Whether you're trying to save money or simply stay on top of your finances, Expense Manager is the perfect tool for the job.
Some features include tracking expenses and incomes; split transactions where you can record all items in a single transaction with different categories and amounts; recurring expenses and income; multiple accounts; taking pictures of receipts; tracking tax, mileage, debts; credit card; credit card and bank SMS message parsing; write, print and email checks.
Money management is key to financial success, but it can be difficult to keep track of spending without the help of a budgeting app. Luckily, there are a variety of great options available, and one of the best is MoneyWise. This app allows users to record all their expenses on a daily basis, making it easy to identify spending patterns. The interface is user-friendly and supports features like graph displaying and exporting to Excel or HTML. For even more detailed tracking, the MoneyWise Pro version provides additional tools.
The app is available in multiple languages, including English, Spanish, Portuguese, Korean, Russian, French, Italian, Swedish, and Norwegian. MoneyWise supports all currencies, including currency conversion with manually configured exchange rates.
The app also includes multiple account support, budgets with weekly, biweekly, or monthly budget periods and configurable starting days, password protection, recurring transactions, and transfer between accounts.
In addition, the app provides users with graphing capabilities to visualize their expenses over time or by category. Users can also tag their expenses using labels for easier tracking and filtering. The app provides views by day/week/month/year as well as balance monitoring for accounts.
For busy people who are looking for an easier way to keep track of their expenses, Expensify is a great choice. It can merge your personal and corporate expenses, produce bills, and help you recover expenses.
Its sync feature allows you to import transactions from your bank and credit card accounts so that all of your expense information is in one place. This can save you a lot of time and hassle when it comes to preparing expense reports. In addition, Expensify can also help you save money by keeping track of spending patterns and identifying opportunities for cost savings.
With features like multi-level approval workflows, mileage tracking, automatic credit card import, corporate card reconciliation, per diem support, candidate reimbursement, receipt integrations (Uber, Lyft, Hotel Tonight, Grab), and accounting integrations (QuickBooks, Xero, NetSuite, Sage Intacct, and more!), Expensify makes it easy to keep track of your finances.
PCI-compliant security and configurable policy rules keep your information safe and secure, while custom report exports and advanced tax tracking give you the flexibility to manage your finances the way you want. Delegated access and multi-level coding make it easy to share Expensify with your team, and the automatic currency converter ensures that you're always getting the best rate.
Monefy has an engaging and simple-to-use app interface that lets you edit categories and add expenses to organize the important flow of your money. It provides different types of widgets that could be used on the lock screen. You can add new expenses with a simple click.
The interface is intuitive and easy to maneuver, giving you complete control over your finances. In addition, the app provides a number of helpful features, such as budgeting tools and visual graphs that help you track your spending.
With Monefy, you can quickly add new records, see your spending distribution on a chart, detailed information from the records list, safely synchronize using your own Google Drive or Dropbox account, take control of recurring payments, track in multi-currencies, access your spending tracker easily with handy widgets, manage custom or default categories, backup and export personal finance data in one click, stay secure with passcode protection, use multiple accounts, and crunch numbers with the built-in calculator. 
Money Lover is an award-winning personal finance & money management app that makes it easy to keep track of your spending and save money. With the Transaction & Expenditures Tracking feature, you can add transactions and view monthly expenditures from the previous month, so you can see where your money is going.
You can also Link Your Bank Account for Automatic Tracking of your transaction history, so you don't have to input them manually. This service is available globally for Paypal account holders.
It provides features to help you create a monthly budget, manage finances for special events, adding recurring transactions and bills. You can view the report in several ways: Daily, Weekly, Monthly, Quarterly, Yearly, All, or Custom. Money Lover also allows you to see your balance for every month, income and expenses, debts, loans, and others. With this app, you will be able to gain insights into your spending pattern and make better financial decisions.