It is quite challenging to budget money especially if it is not that much. It can be difficult as well if you have more expenses than income. So it is good to do some budgeting to be able to meet the budget that you wish to have. There are ways to do budgeting or money management. You can do it manually like putting together your expenses and income on your notebook or by using an app. You can download the app to your Android that can help on your budgeting. Below are the 5 best free money management apps for your Android phone.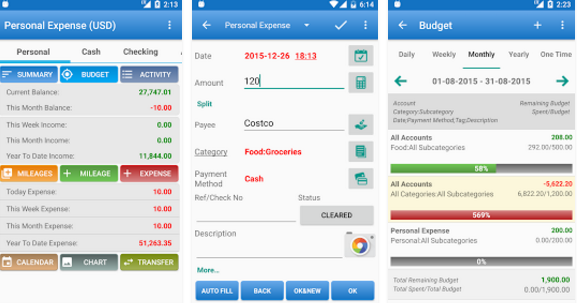 The Expense manager app is the most popular app for money management that will let you get your income and expenses to detail without difficulty. Expense Manager is simple, intuitive, stable and feature-rich app that is just designed for your financial expenses. The app includes visualization of your funds in a range of period: months, weeks and also even days. This app can carry your expenses without missing anything through its simple interface.
Through this app, you can manage and control your financial concerns from anywhere.  It is a good solution for your business expenses, personal expenses, travel expenses, and more. The intuitive user interface lets you manage the costs, set an invoice reminder, plan budgets, and control expenditures. This app can bring up all the bills and also the expenses and have them available on your phone.
Another best money management free app is the MoneyWise that permits you to record all your expenses daily. It has a user-friendly app interface that can record the spending and show it on a daily, weekly or monthly basis. It supports graph displaying, and Excel or HTML exporting to help you identify or keep track of spending visually. MoneyWise Pro version provides more tools to drill down to see more details.
This app is great for those people who want to keep track of their bills and expenses at ease. Expensify will help you to merge personal and corporate expenses to produce the bills and to recover the expenses. Expensify takes the time, paper, and headaches out of your expense reports with its sync feature, which you can import bank & credit card to automatically pull your transactions into your account.
Monefy has the colorful and simple to use app interface that lets you edit categories and add expenses to organize the important flow of your money. It provides different types of widgets that could be used on lock screen. You can add new expense with a simple click.
Those were the 5 best free money management app for Android that you can download to help you in managing your budget. Each of the apps is helpful and can guide you in managing your money on daily, weekly or a monthly basis. Choose the very best app that can be helpful for your every expense and budget. It is easy to budget or manage your money if there is something you can use to do it. The 5 best free money management app for Android are the best ones to choose.