For today's businesses, cloud-based ERP software is becoming an increasingly popular option for managing operations. It allows you to access information from any device, anytime, and from anywhere, as long as you have an internet connection. With cloud-based ERP, businesses can save money on hardware and software, as well as manpower, as all their data is stored in the cloud. What's more, cloud-based ERP software is usually more secure and can be updated easily and quickly. In this article, we'll look at 10 of the best cloud-based ERP software on the market.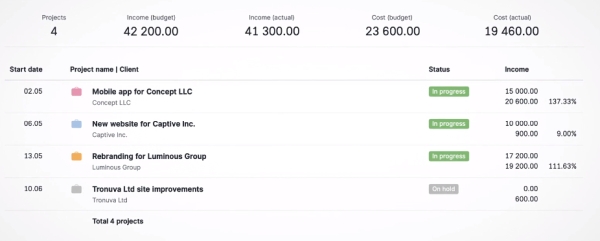 Scoro brings in more teams and workflows together simultaneously, as well as a bunch of well-detailed management features. You can take more currencies, come up with invoices or deal with various financial functions. Worried about analytics? Consider it done. Plus, statistics are extremely detailed and the free trial will let you try all these before making a commitment.
Odoo offers 2 versions, Enterprise and Community, which are paid and free one. Odoo Community is an open-source software – no secrets about it. It operates in the cloud and will bring in any module you can imagine. It can scale up or down along with your business, but it also brings in stats for expenses, invoicing, sales modules, human resources, project management, recruitment, and so on.
SYSPRO operates in two different ways – you can use it in the cloud or on local computers. There are loads of computing features to enhance your experience, from billing and inventories to invoices, auditing, accounting, and even fraud detection. The software is highly customizable.
SAP ERP brings in German technology and precision. It is reliable, easy to use, and can be customized to match your business needs. From supply chain and human resources to CRM and order modules, you have everything in one dashboard. You can run it in the cloud or on your premises.
Brightpearl runs in the cloud and is regularly updated with modern solutions for international commerce. You can handle orders, sales, inventories, expenses, shipping and even accounting. The software allows selling over numerous channels – everything is then easily accessible from a user-friendly interface.
Microsoft Business Central is relatively new when compared to other solutions, but it still brings in a detailed experience, cloud operation, and full integration with other Microsoft software. The analytics function is extremely advanced, while other features include payrolls, sales, marketing, inventories, and financial management.
NetSuite ERP is one of the most reputable cloud-based ERP programs out there – billing, orders, financial management, warehouse operations, and anything in the supply chain management. Modules can be implemented separately to ensure full customization – scalability is not to be overlooked either. The software has a free trial too.
Brahmin Solution is ideal for small and medium businesses with up to 1,000 orders a month. It is an inventory suitable for all kinds of warehouse applications. It allows the operation of more inventories in various channels, as well as numerous warehouses. You can deal with more currencies as well.
Sage Intacct will not let you down if you expect financial solutions in a straightforward application for your business. Its accounting features stand out in the crowd, but it also takes bank reconciliation, different currencies, multiple sales, inventories, management, and so on. Reports are well-detailed and organized.
Oracle ERP Cloud could be the solid foundation for your business that you have always looked for. It is flexible in price based on your needs. Features are quite diversified – risk management, inventories, orders, analytics and statistics, project management, human resources, and procurement, among many others.