Some of you are looking for the apps which are developed for streaming anime from Japan. There are plenty of apps of this type, but only 5 of them should be taken into account. Yes, they are mentioned below.
Crunchyroll – Everything Anime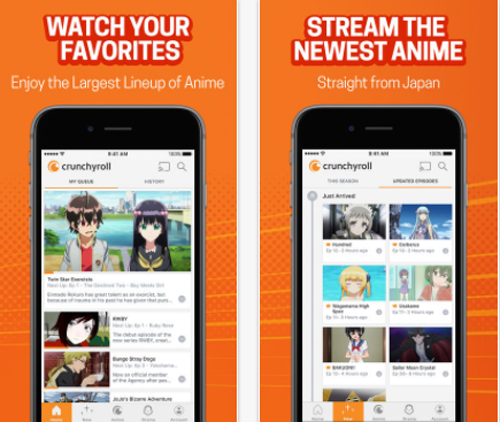 The app is loaded with essential features. Furthermore, it allows you to watch all popular anime series and it is free for 7 days. Premium version is available as well. It comes without ads and you can stream anime from your Apple TV, Xbox and etc.
Watch your favorite Shonen Jump anime or follow your favorite Korean dramas without distraction. We have so much to offer for a low monthly fee that we can forgive our ads and provide one of the best home video experiences out there. Your iTunes account will automatically be charged after automatic renewal, unless you turn it off in settings on your device.
The FunimationNow is a simple app loaded with features. You have +/- 10 second option, you can purchase subscription form the app and you can watch HD anime. One of the best advantages is the search feature, which is accurate and detailed.
Funimation's extensive library of HD, ad-free anime features over 500 movies and top trending shows like Demon Slayer, Fruits Basket, Black Clover, Attack on Titan, My Hero Academia! Watch dubbed or subtitled episodes with ease. They have an anime adventure for you to enjoy no matter your style.
Your anime adventures are about to begin! Other benefits include watch ad-free stream hundreds of new and classic anime without those pesky commercial interruptions or subtitles. Watch simulcasts straight from Japan plus dubbed episodes within two weeks of their Japanese broadcast.
Kitsu is one of the largest social anime tracker with over 3 million users! With a focus on quality and community feedback, Kitsu has all your favorite genres and episodes, along with personalized recommendations to suit your taste. Add the shows you've seen, make lists of ones you want to watch, discuss and share reactions to new episode releases while chatting about what you love about that show. The app makes it easy for fans of any genre or level of expertise to find their next televised viewing experience.
This app is important because you can rate anime, add them to a playlist (5 of them are supported) and it also offers details about that show. Trailers and smart recommendations are available as well.
Viewster – Anime, Gaming & Fandom TV
With the app, you can watch full-length anime and other series. AirPlay is supported as well. Be free to create a watch list at any time you want. Furthermore, you can enjoy in anime and TV shows which are uploaded each week.
Here we have an app which is more than just appealing. You have the ability to request anime, to watch the latest ones and to gain points each time you use the app. It has a modern and interesting user interface which you will probably like.
Summary
Watching the latest anime isn't so difficult after all. Enjoy your favorite anime shows with the help of these apps.