Want some apps to guide and track your plank excercise? Here is a list of best Android plank apps.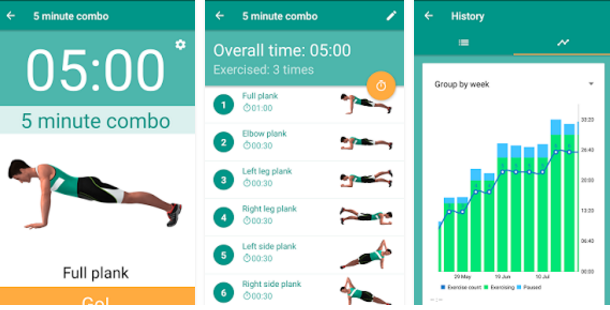 Mostly, all people want to maintain their fitness naturally. If you want to maintain your fitness level, then you should do exercises daily. Exercises are the best way to keep your fitness long time without suffering from any side effects. This app helps to learn about the common plank exercises in a step by step manner, and also these exercises help to maintain your fitness and improve the strength. Plank Timer offers many plank poses and track and display history with beautiful chart.
Take 5-minute plank everyday, which helps to build your muscles easily, for that you don't need to take any physical activity. This app provides you the 10 best training techniques. Learn these techniques and do it properly for the better result. Here you can learn to do elbow plank, full plank, walking plank, and much more.
Take this 30-day plank challenge for improving your core muscles. This is one of the best apps to maintain your fitness and strength. In this app, you can get different types of muscle exercises, spend 5 minutes of time to do this exercises daily, within 30 days you can see the extraordinary result.
This is the latest released workout app. The workouts of this app are designed by the best professional coaches in the world, so it will definitely provide you the best result. It offers training progress tracking, reminder, detailed video guides, 30 day abs challenge, 30 day full body challenge and 30 day butt challenge. With the help of this app, you can lose your body weight effectively and maintain your fitness easily. You must concentrate on the workout rules for the amazing results.
Maintaining your fitness and building your abdominal muscles is not an easy task. With the help of this plank workout, you can build your muscles, arms, and shoulders easily. Just take few minutes of time every day and build your muscles easily.