Small yet mighty, the Ace AMR5 is a mini PC that's jam-packed with features and doesn't compromise on performance. With customizable RGB lighting effects and an efficient cooling system, this tiny powerhouse is a head-turner.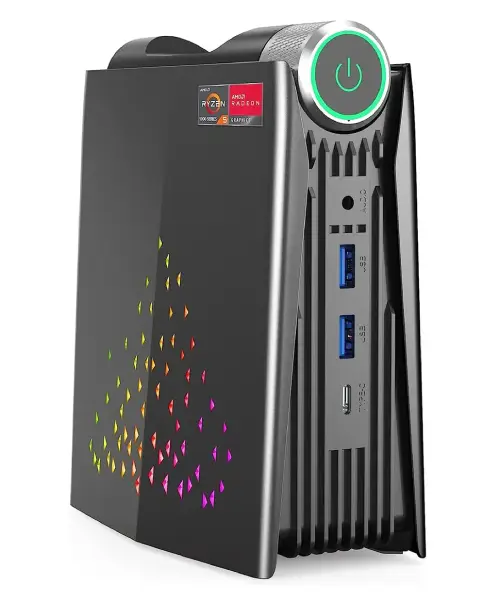 Core Specs
Processor: Choose from AMD Ryzen™ 7 5800U or AMD Ryzen 5 5600U
RAM: Comes as barebone or with 16GB DDR4, upgradeable to a whopping 64GB
Storage: Barebone or 512GB SSD (Solid State Drive), with room to expand up to 2TB
OS: Runs on Windows 11 Pro
Size Matters: The dimensions are 5.23 x 2.83 x 6.15 inches, making it a small footprint device.
Weight: Just 581g, lighter than your average textbook.
Ports: It offers four Type-A USB 3.0 ports.
The mini PC allows you to tailor your power settings to meet different needs, giving you control over energy consumption. Also, with six processors and DDR4 computer memory type, this is not your average Mini PC.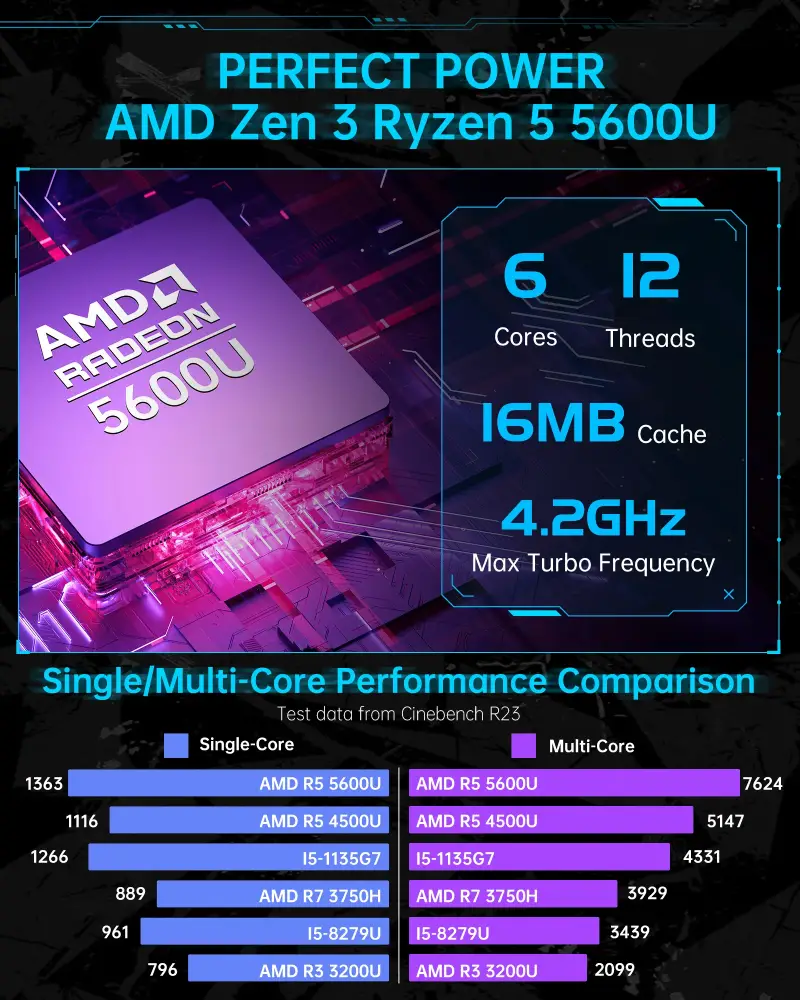 One of the standout features is the magnetic side panel, which offers fuss-free access to the RAM. Not only is the RAM upgradeable up to 32GB, but you also get two M.2 slots, making future storage expansion a breeze.
Here are some pros of the Ace AMR5
Great Deal: Caught it during a promotion and saved some bucks.
Compact Size: It's noticeably smaller than the ThinkCentre, as you can see from the pictures.
Easy Upgrades: RAM and SSD can be upgraded without having to search for that elusive screwdriver.
Aesthetic Appeal: The cool design and lights are visually pleasing, although there's no obvious off-switch for the lighting.
Auto Mode is A-OK: Many users have been using this on auto mode and it's been smooth sailing. It switches to performance mode when needed.
Tidy Setup: Fits neatly into a small box and is almost invisible.
RAM Upgraded: Boosted the RAM to 32GB while keeping the SSD as is.
Quiet Operation: Positioned away from my workspace, so no noise complaints.
Dual Monitor Friendly: Tested it on a two-monitor setup, and it handled 4K videos flawlessly.