People always think making Android games is hard. I think the same, too. Developing a game takes a long time, from learning to code to making game assets. That's why many developers, including me, want to find an easy solution to at least reduce development time as much as possible. That's the reason Android game makers exist. They help developers to code less in order to focus on other aspects such as asset design.

They make Android game development easier but come with limited flexibility. If you want to develop more complicated games, I suggest choosing an Android game engine or SDK.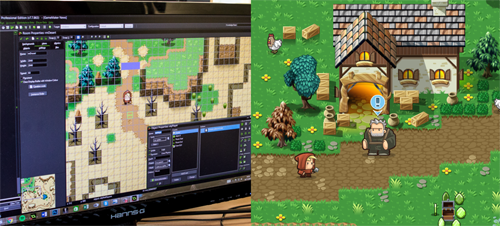 Following is a list of free & paid Android game makers worth using
GameMaker
It is a very popular platform that caters to all levels of developers. With its built-in visual drag-and-drop interface, you will find building games for Android easy. It supports a lot of platforms, from HTML5, and mobile to game consoles.
Buildbox
Buildbox is designed to make making games easy for everyone, from developers to designers. A game's logic and assets are created using drag-n-drop feature in its studio, be it a character, enemy, background, object, power-up, or effect. There are a lot of hit games developed in Buildbox, including Color Switch, Damn Daniel, and The Line Zen.
Construct 2
Construct 2 does the hard work so developers don't need to reinvent the wheel. Anyone can make complicated and fantastic games without writing a line of code. Its drag-and-drop UI makes connecting elements together into a game quick and easy.
Stencyl
Stencyl is another non-average game creation software. It has a beautiful and intuitive toolset that accelerates any developer's workflow. Stencyl has many games that reached top slots in the App Store and Google Play.
PlayMaker
It is a Unity3D visual scripting plugin that makes developing games in Unity3D easier. If you are a Unity3D user, you must use PlayMaker. It is an essential tool that totally changes the way a game is developed and accelerates progress.
GameSalad
GameSalad is a popular game maker which has a user community of over 750,000 developers from 189 countries. It has a lot of games that hit the top games in app stores.
Fusion 2.5
Fusion 2.5 provides users with an amazing event editor system that can help games or apps generate quickly. CF2.5 deeply implements the famous Box2d physics into the movement property tab for most objects. There is no complex programming language to learn with this tool.
Playir
Playir offers drag-and-drop tools to allow anyone to create and customize characters, menus, levels, and more. It has a real-time development mode that sends assets, UI, and source code changes straight to devices.
Game Editor
This is an open-source game maker that gives developers a list of toolsets to make games in a simple interface.
flowlab
Flowlab is an online game maker which lets you create your own Android and iOS games. It also provides hosting for your games in all packages. The FREE plan allows you to make 3 games with a  total of 50 objects.