There are many game engines dedicated to Android game development in the past few years. Below are the most popular Android game engines which are used in may famous games on Play Store.
Best Android Game Engines
Unity3D

Unity3D is the most popular with both small and big developers currently. It is a fully integrated development engine which offers lots of functionalities to develop both 2D and 3D games. These games can be published on mobile, desktop, web, game console, TV platforms and VR. You can see a list of popular games made with Unity here.
Website: https://unity3d.com
libGDX
LibGDX is a Java game development framework that provides a unified API. Project written in libGDX can be published to Windows, Linux, Mac OS X, Android (2.2+), BlackBerry, iOS, Java Applet and Javascript/WebGL. libGDX is an open source project licensed under Apache 2.0. Libgdx can be integrated with many 3rd party tools such as Spine, Nextpeer, Saikoa.
Website: https://libgdx.badlogicgames.com
Cocos2D-x
Cocos2D-x is also an open-source game framework which are widely used in many top games in Play Store. The Cocos2D-x is optimized for 2D graphics with OpenGL. It supports skeletal animation, sprite sheet animation, coordinate systems, effects, multi-resolution devices, textures, transitions, tile maps, and particles.
Cocos2D-x is supported by Chukong Technologies of China and USA. So developers can expect regular updates for this game engine in the future. I read somewhere that over 25% games on iOS are developed using Cocos2D-x.
Website: http://www.cocos2d-x.org.
Corona SDK
Corona SDK is one of the most advanced 2D mobile development platforms. Corona SDK offers lots of features that make it a very reliable way to develop game. Corona uses the Lua programming language, a scripting language commonly used to develop games so I'm sure that developer can become familiar with this engine very soon.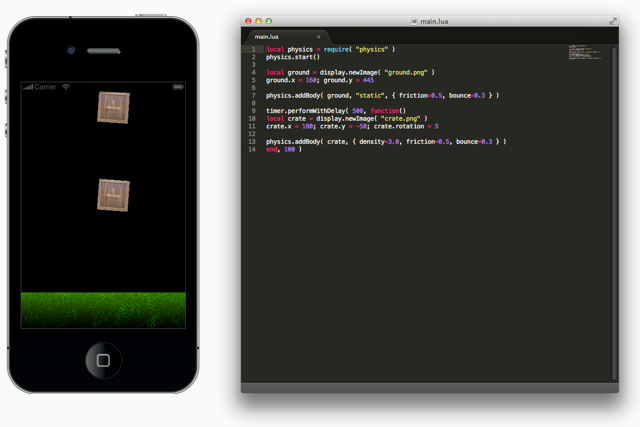 The best feature in my opinion is Corona Simulator. Every code change takes affect and get displayed to the simulator right way.
Corona SDK is built on industry standards such as OpenGL, OpenAL, Box2D, SQLite. The platform allows developer to publish games to iOS, Android, Windows Phone and Kindle. Windows and Mac OS X will be supported in the future.
Website: https://coronalabs.com
Godot is an advanced, feature-packed, open source game engine for making multi-platform 2D and 3D games. Godot provides lots of tools such as Visual Editor to help developer focus on making games without reinventing the wheel.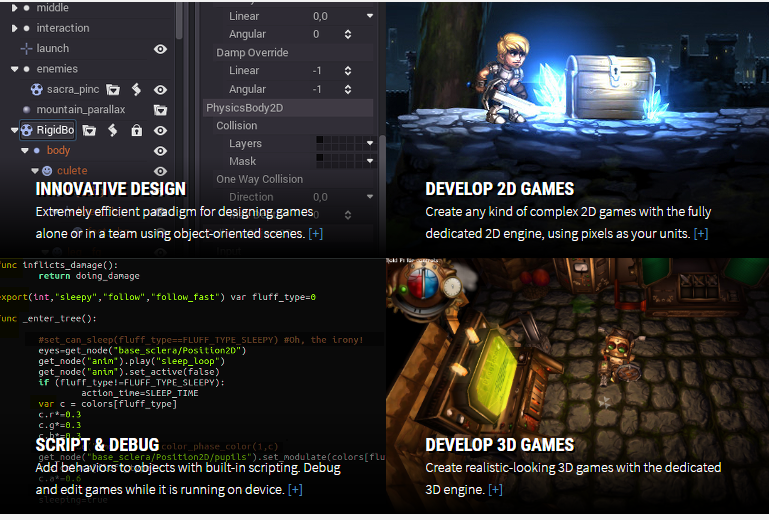 Website: https://godotengine.org/
AndEngine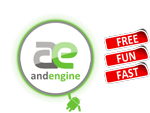 AndEngine is an open source game engine which is used to develop 2D Android game. If you want to get a simple game working on Android the quickest and easiest way, you should try this engine. AndEngine has a complete 2D scene graph, with a very easy-to-use API. Because it is developed specifically for Android, it works really well with the Android activity's lifecycle. Developers can use both GLES1 and GLES2.
The only bad thing I can say about this engine is its lacking of documentation.
Website: http://www.andengine.org/
Other Android Game Engines
There are many other game engines for Android which are used by small communities of Android game developers. If you have time, check them out in case you will love them.
Unreal Engine
Unreal Engine is a game development tool made by game developers and for game developers. It provides everything a developer need to start and publish their games in different platforms. This engine is not for beginners because of its steep learning curve.
Atomic Game Engine
Atomic Game Engine  is an open source game engine for developing both 2D and 3D games.

Monkey-X
Monkey features a lightweight framework called Mojo for developing games. It designed primarily for 2D games, with a powerful set of APIs that make it easy to draw blazing fast graphics on all platforms, including Android. Monkey-X doesn't take off because many developers don't want to learn a new programming language which can be used on with Monkey X.

Monkey X comes with Jungle IDE, a professional development environment for Monkey X.
Marmalade
Marmalade is a cross-platform solution for C/C++ game developers. It combines a powerful SDK with best-in-class services, which provides tools for developers to write once and deploy their games to iOS, Android, Windows, Mac. It can be used to develop a 2D or 3D game coded in C++ or Lua.
EDGELIB
EDGELIB is the most powerful and versatile middleware solution for Android development. It allows developers to make superior apps and games on a vast range of mobile platforms besides Android.
Esenthel Engine
Esenthel Engine comes with a SDK that works on both Windows and Mac. Esenthel Engine offers free and subscription-based versions. Both versions can be used to develop cross-platform games.
Orx
Orx is a portable, lightweight 2.5D-oriented game engine. It is an open source project licensed under the zlib license. One of its unique feature lies in its architecture which is plugin based. That means that a developer can easily port the game engine to new platforms and extend it easily with his own plugins.
AppGameKit
AppGameKit makes it easy for developers to code games with its BASIC language. AppGameKit provides a set of commands that control all elements of a game, from sprites, sounds to physics and collisions.
BatteryTech
BatteryTech allows easy and fast development of high performance games executed in different platforms. It consists of a high-level 2D and 3D game engine and the BatteryTech SDK which provides a full Lua scripting API.