VLC Media Player is a free and open-source, cross-platform multimedia player. It plays most codecs without the need for additional third party plugins to be installed. Since its release in 2001 VLC has become one of the most popular media players available on virtually any operating system with an interface designed so it can suit both desktop computers as well as mobile devices.
The original name stands for VideoLAN Client (or sometimes just "Video LAN"), but following issue of potential trademark conflicts with other software products that use this same abbreviation, they have renamed themselves to simply 'VideoLan'.
VLC Player is free.
It's available on all operating systems.
You can play any video format with it, including MKV and AVI files. It supports most audio and video formats without the need for any external codecs.
You can save your videos to a different file type (like MP4) for faster loading times or better quality.
VLC Player has an intuitive interface.
VLC Hotkeys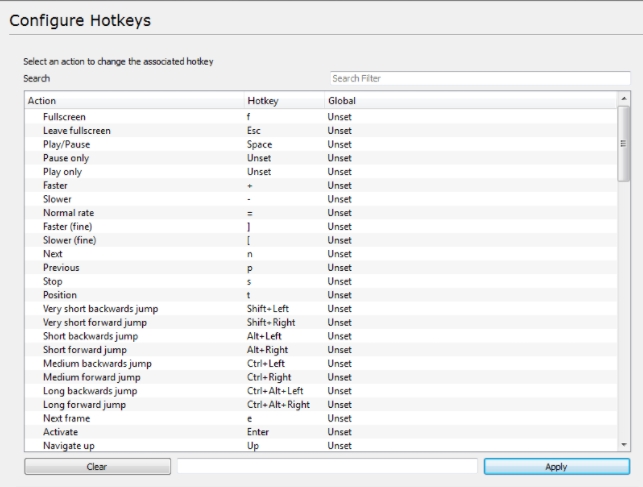 The list of the available hotkeys and their functions can be viewed and configure in the Preferences panel of the software.
Tools, Preferences, HotKeys.
Under the Global column, double-click the value corresponding to the function you want a global key assigned to.
Press the key or key combination you want
Click Apply
Click Save
Following are default hotkeys:
| | |
| --- | --- |
| F | Fullscreen |
| Esc | Exit full screen mode |
| Space | Pause or play movie |
| V | Subtitles on/ off |
| B | Select audio track |
| Ctrl+Arrow Up/Arrow Down | Volume up/ down in 5% increments |
| Shift+Arrow Right/Arrow Left | Jump 3 seconds forward/ backward |
| Alt+Arrow Right/Arrow Left | Jump 10 seconds forward/ backward |
| Ctrl+Arrow Right/Arrow Left | Jump 1 minute forward/ backward |
| Ctrl+D | Open Disc menu |
| Ctrl+F | Open Folder (browse folder menu) |
| Ctrl+R | Advanced open file |
| Ctrl+O | Open single file(s) |
| M | Mute and unmute audio |
| P | Play movie (from the very beginning) |
| S | Stop movie (not pause; this stops the movie completely) |
| [/ ] | Increase/ decrease playback by 0.1x |
| = | Adjust playback to normal (1.0x) |
| C | Change screen Crop 16:10, 16:9, 4:3, etc. |
| A | Change Aspect ratio 16:10, 16:9, 4.:3, etc. |
| G/H | Decrease/ increase subtitle delay |
| J/K | Decrease/ increase audio delay |
| Z | Change zoom mode |
| Ctrl+1 … 4 | Play Recent media |
| T | Show time |
| Ctrl+T | Goto time |
| E | Frame by Frame Mode; continue pressing E to advance one frame at a time. |
| Ctrl+H | Hide Control |
| Ctrl+P | Preferences/ interface settings |
| Ctrl+E | Adjustments and audio/ video Effects |
| Ctrl+B | Edit Bookmarks |
| Ctrl+M | Open Messages |
| Ctrl+N | Open Network |
| Ctrl+C | Open Captue device |
| Ctrl+L | Open PlayList; press again to return to movie. |
| Ctrl+Y | Save playlist |
| Ctrl+I | Media Information |
| D | Toggle Deinterlace |
| N | Play next movie from playlist |
| P | Play previous movie from playlist |
| F1 | Show help |
| F11 | Window full-screen (not equal to pressing F) |
| Ctrl+W | Quit VLC |