One of the most frustrating things about Windows 10 is that it can block programs you need to access. For example, if you try to use uTorrent on your PC and nothing happens, this could be because Windows blocked it. Luckily, there are a few steps you can take to fix this problem!
What is uTorrent?
uTorrent is a program you can use to download files from the internet. The u stands for "micro." It's tiny and very lightweight, so it won't slow your computer down like some other programs might.
It starts with just one file called utorrent.exe that runs in the background of your system. Whenever you want to do something on the software (like search for something on Google or start downloading a movie), there will be an icon at the top left corner labeled "utorrent" which opens up all these options! You don't need any special installation process because it doesn't require much space.
Why Is uTorrent Blocked By Windows 10?
Antivirus software can sometimes flag uTorrent when you download files from torrents. A common reason for this is if the file has a PUP (potentially unwanted program) which may be trying to take over your computer or hijack it with malware and viruses while pretending to offer something helpful like an antivirus scan. If that's not what they're doing, then they might just try installing more programs on your system without permission.
Windows Defender or any anti-virus software in Windows are no exception. They often block uTorrent.
How to Allow uTorrent in Windows Defender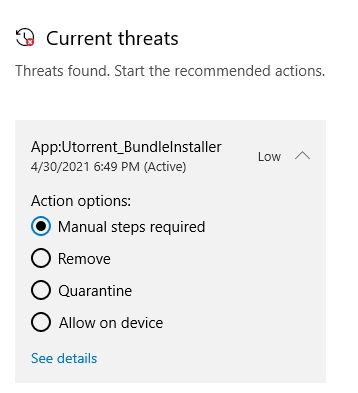 In Windows 10, we can set Windows Defender to allow a process.
Open Windows Security
Access Virus & Threat Protection page
On the action about uTorrent check "Allow on device" to allow uTorrent
User ROTTNLOVE in the comment section suggests downgrading to uTorrent version 2.2.1 which isn't blocked by Windows Defender by default. If nothing works, you might try this solution.
Allow uTorrent in Other Antivirus Software
There are many antivirus software out there. If you have another anti-virus software like McAfee, Norton, or AVG, then the process may be different. You should look up how to allow a program in your specific anti-virus software. Each one has a quarantine section and settings for the exclusion of certain processes.
However, most antivirus follows these steps:
Open your antivirus software
Click on the settings tab
Find the "exclusions" section and add uTorrent to it by clicking on the plus sign next to "add an exclusion"
Once you have added uTorrent, click save changes at the bottom of the page