Maintaining the garden is one of the top-notch priorities of house owners, especially those who like a greener atmosphere around themselves. Now, the job can be very complex even if it comprises only mowing the grass. It becomes difficult with the daily schedules and complexities of the machines. Thus nowadays, robotic lawnmowers are being used to have the grass done in the least possible time and with the finest accuracy.
What is a Robotic Lawn Mower?
A robotic lawn mower is an electric device that automatically cuts your grass. It does this by navigating a programmed route and cutting the grass on its way back to the charger. Some models also cut in random patterns so they don't wear out any one part of the yard too much, which can help preserve your lawn's health for years to come. You control them via a remote or app from inside the house! Plus, you can schedule them up to seven days in advance if you want. This means that once it starts raining outside (or when you're away) they will run without oversight until either their battery dies or they complete their scheduled task list – whichever comes first!
The robotic lawn mower can be a great investment for families with busy lifestyles. It's never too late to buy one and get your lawn back in shape before winter sets in!
Benefits of Robotic Lawn Mowers
These machines are rather smart and make garden keeping easy overall. Here are some of the benefits of using these robotic mowers.
Low Maintenance – Once the robotic mower is installed, you can forget about it until the next season starts growing near. All that will be needed throughout the year are occasional brushings off of blades or wheels (depending on model) and emptying out its collection bin when necessary. The only thing needed after purchase is changing the blades every now & then depending on how often the lawn gets cut but besides that, there is no gas, or filter replacements.
Eco-Friendly – This type of device runs on battery power, so there's no need to worry about any gas-powered engines polluting our air while they do their work! And since this also means there's not much noise coming from when it is in work mode.
Low Cost – If you're looking for a way to keep your lawn in shape without having to pay someone every time you need it done, then a robotic mower might be the investment for you. They may be more expensive than gas-powered models but they are generally cheaper upfront and will save money over time due to their reduced maintenance costs.
Better Results – Since there's no one actually sitting behind a steering wheel drunk driving (hopefully), these devices can work at faster speeds so that an entire yard gets covered with less repetition of going back and forth like most people would do themselves with just pushing around a regular push mower. This means better coverage while not compromising on quality!
Less Stressful Job – Cutting grass with a manual control machine is a hard task/ job to do. It's been proven that the act of pushing a manual mower can be bad for your mental and physical health over time so switching to an automated machine will help in this area as well!
Automatic – No need to worry about starting up or pulling out from storage when you want it done, these machines are ready to go once they're plugged in with battery charging done overnight. Simply set them on their desired cutting mode and off they go without any continued input required by you which means less work all around (yay!).
Better look and healthier surroundings – One of the prime benefits is that the use of these robotic mowers improves the look and texture of grass to a considerable extent. They have uniform precision throughout the space along with similar motion. This allows them to keep the structure constant and therefore enhance the look of the grass. Plus, the blades in the mower cut the grass clippings in extremely fine form. It, first of all, makes them invisible to the naked eye, secondly, the fine grass clips are able to reach closest to the soil and turn into fertilizers as soon as possible.
Safety – Traditional mowers are required to be constantly administered in their motion to keep others as well as yourself safe. These blades usually can hit out materials if they are present on the soil, resulting in injuries. Moreover, there can be instances of the blade getting detached from the motor which in itself is a terrifying situation. Robotic mowers however are well-designed to deal with the situation. Their blades are extremely tiny and are enclosed in the lower part of the mower. They contain sensors within them that can detect if they are being tilted or handled which immediately turns the blades off.
Recommended Robotic Lawn Mowers
WORX WR140 Landroid M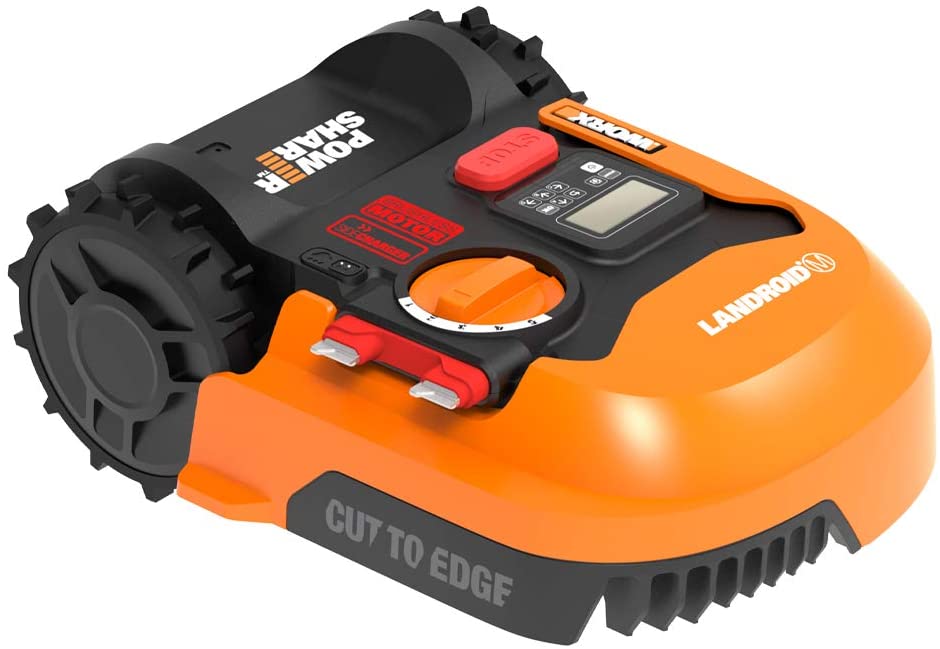 Worx has been in the hardware game since 1975 and we got one of their latest gadgets to show. After you set the charging base, lay down the boundary wire, measure your lawn with the app, and let it mow, it can cut lawns up to ¼ acre without gas tanks, chainsaws, or gasoline required.
Worx Power Share is compatible with all Worx 20v and 40v tools, and outdoor power products such as blowers and trimmers PLUS it's also designed for use with lifestyle items like people movers and chop saws so you can take care of everything at home without needing another outlet around town.
When the Worx Landroid M detects rain, it returns to the charger to wait until the lawn is dry. The 7" offset 3-blade cutting disc gets closer to the edge than other mowers, so you have less trimming to do later. Worx Power Share is compatible with all Worx 20v and 40v tools, outdoor power, and lifestyle products.