In order to make your websites, content, and projects more visually appealing, adding transitions can be a great way to make all the difference. Transitions are the process of changing from one content to another, featuring different web pages, images, texts and more. By smoothly implementing these transitions, you can easily turn dull and uninspiring content into something that is more professional and engaging. Writing the code for such transitions can be challenging. Fortunately, using jQuery transition plugins, you can achieve amazing transition effects in your projects without spending too much time.
We have selected 5 of the coolest jQuery transition plugins to make your works stand out from the rest.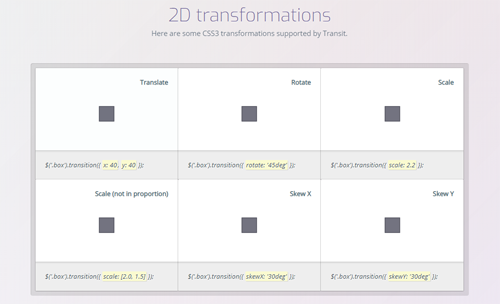 Transit: Transit is a free jquery transition plugin that allows you to put super smooth Cascading Style Sheets transitions and transformations. It allows you to animate and translate any CSS property. Transit allows for both 2 Dimensional and 3 Dimensional transformations. Transit is supported by a wide range of web browsers on both the Windows and Mac platforms.
Fluidbox: Fluidbox works as both an image transition plugin and an image transition plugin for jQuery. It can allow you to enlarge images and at the same time allows you to put transition effects on them. Fluidbox ensures that if you require your project to enlarge an image and add transitions to it as well, it will ensure that you can do both without adding another plugin thus preventing your project from becoming heavy.
Multi-screen.js: Multi-screen.js is another unique and cool transition plugin that allows you to add transition animations between multiple pages. Even if your project is single-paged, it allows you to break it into multiple pages. Thus, you will be able to add varieties of transitions to these pages allowing the user to flip through your content with smooth and fluid transitions and animations.
Wiper: Wiper can be used when creating slideshows. Wiper offers a cool and wide variety of transition and animation effects for slideshows. It allows you to collapse and rotate slides with amazing sets of transitions, animations, and transformations.
Dialog: Dialog plugin allows you to apply transition effects to dialog boxes or pop-up menus. With the help of the Dialog plugin, you will be able to apply a variety of sleek and fluid transitions to any dialog boxes or pop-ups. The dialog transition plugin is also very lightweight in nature and also accommodates a wide variety of web browsers and operating systems.