The popularity of content management systems (CMSs) such as WordPress and Drupal has been on the rise for years. These CMSs provide a wide range of features and tools that make it easy for developers to create and manage websites. However, with the rise of Laravel, developers are now looking for more powerful and customizable options for their web development projects.
This is where Laravel CMS packages come in. These packages provide developers with a wide range of features and tools that can help them create powerful and dynamic websites with ease. In this article, we will take a look at the best Laravel CMS packages available and how they can help you replace WordPress and Drupal.
6 Best Larevel CMS Packages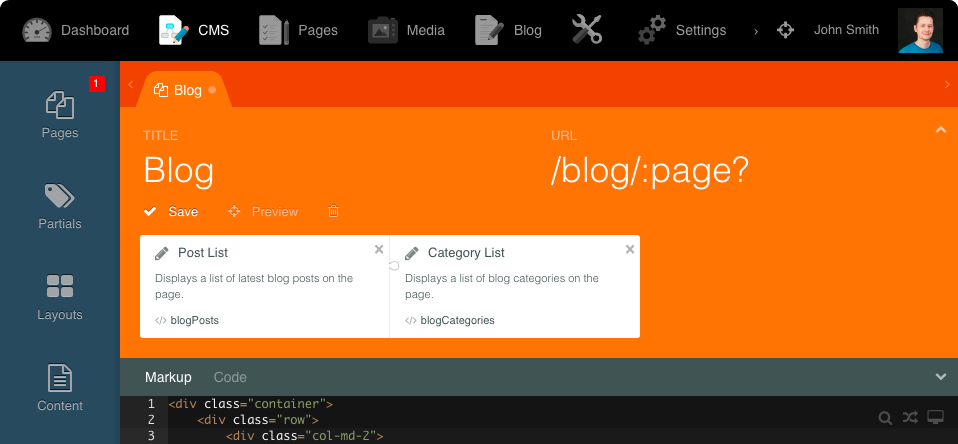 October CMS is a free and open-source content management system (CMS) based on the Laravel framework. It is designed to be easy to use and understand, even for those with little technical knowledge. October CMS uses the Twig templating language, which is a simple and intuitive language created specifically for web designers. This allows users to quickly and easily create websites with powerful features.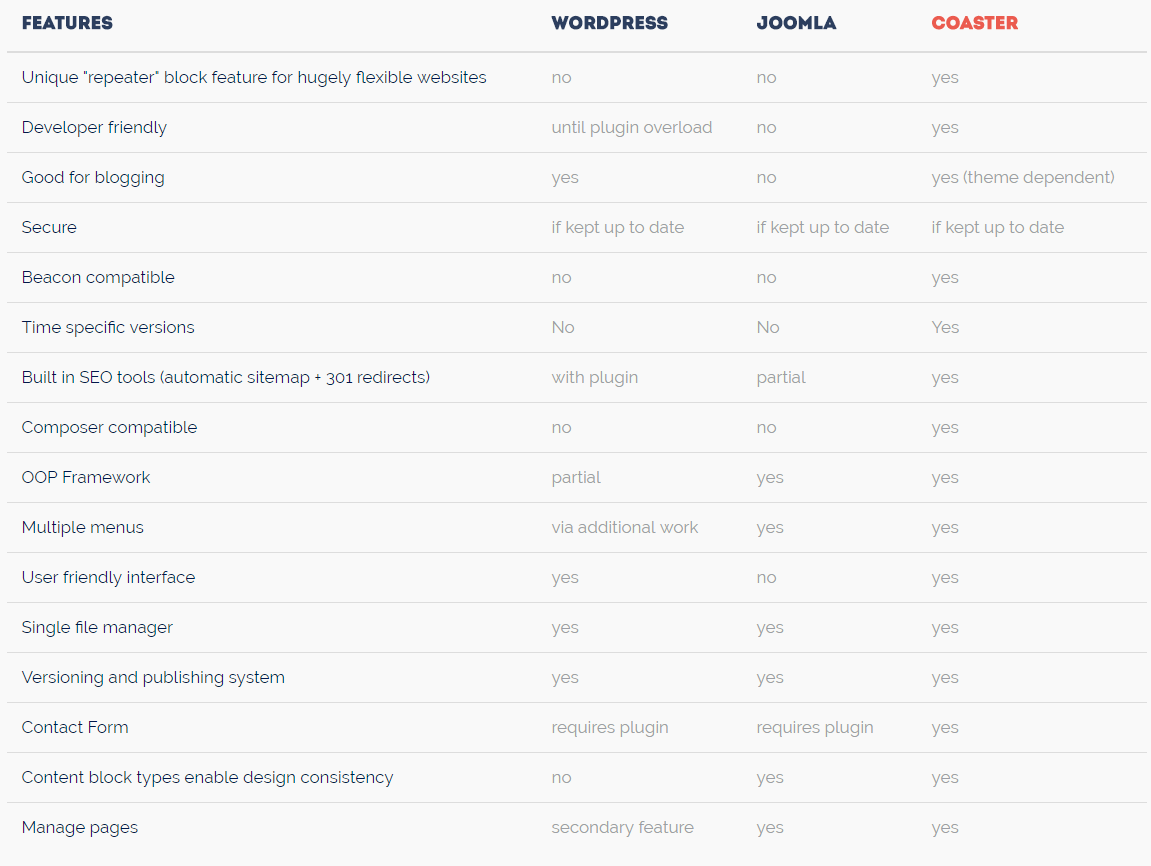 CoasterCMS is a great platform for developers and designers, as it is built on the Laravel 5 blade system and utilizes a block-based template model. This makes the process of creating eye-catching page designs significantly easier, as code is kept neat and organized. Coaster's user-friendly interface also allows for quick and easy customization of templates.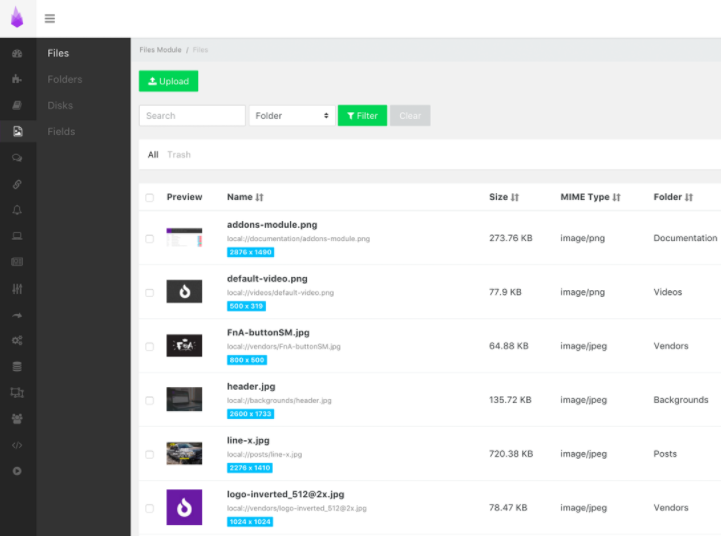 PyroCMS is a simple and ready-to-use Laravel CMS built for everyone. t is designed to be easy to use and is suitable for both developers and non-developers. It has its own set of APIs to ensure that code is written to the highest standards and to make it easier to create complex websites and modules.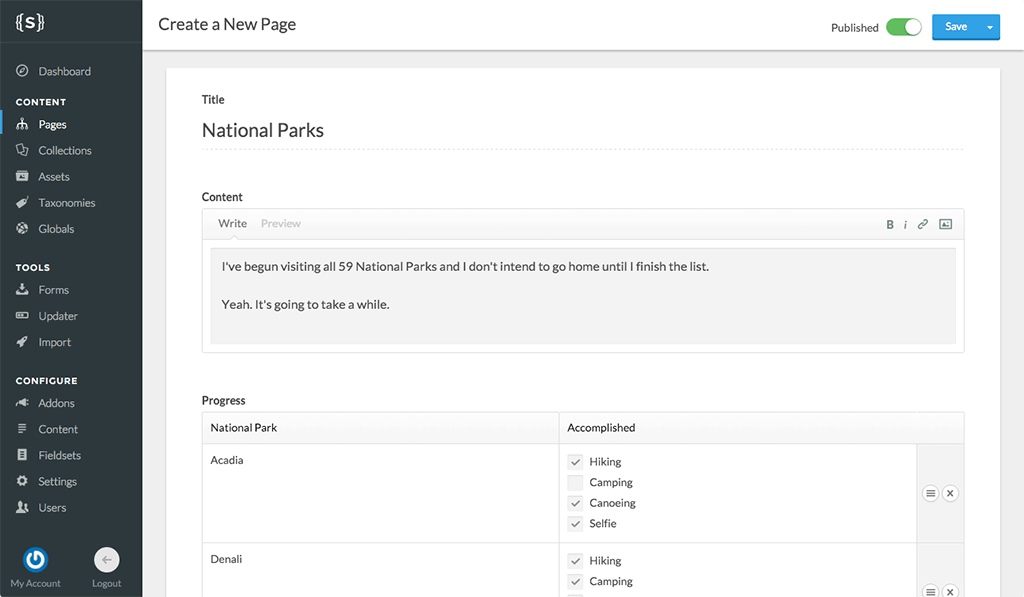 Statamic is a content management system that uses Vue.js for its admin control panel. It is an easy-to-use platform for creating blogs and news sites, with a What You See Is What You Get (WYSIWYG) editor for admins to quickly and easily make changes to their websites. It's a powerful system that enables admins to quickly and easily create and manage content.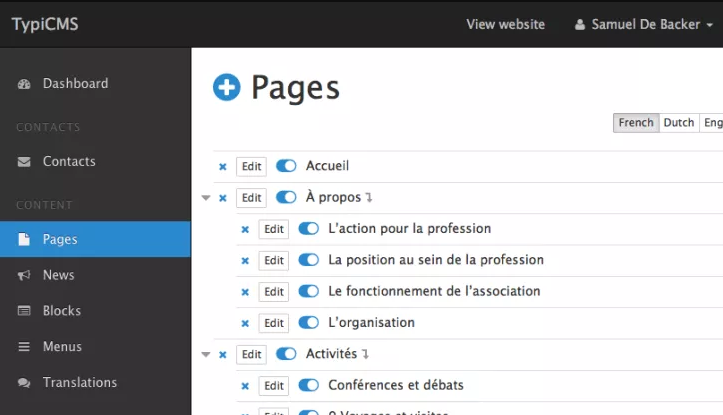 TypiCMS is a modular multilingual CMS developed with Laravel 5.2. It already creates taxonomy, blog, news, media, event, and many other features for you to use right after installation. TypiCMS is open-source software licensed under the MIT license.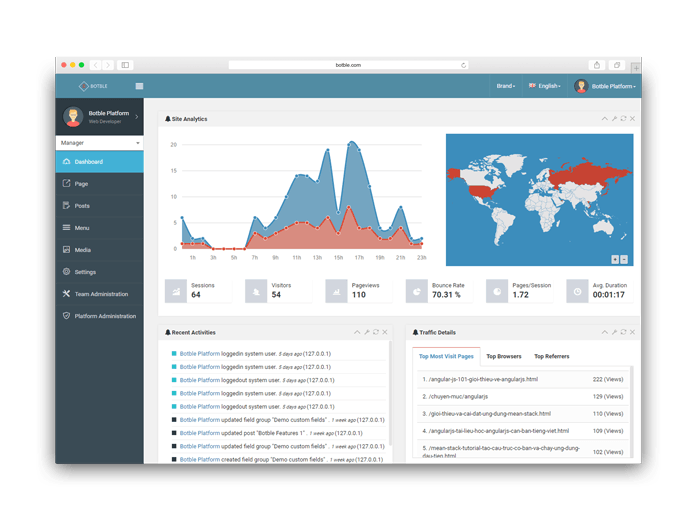 Botble is a CMS based on the Laravel Framework, providing many features to help with creating new websites. It is suitable for creating multi-purpose websites, with code that follows coding standards PSR-2 & PSR-12, which have been tested and validated by Codeship.
All of Botble's products are fully responsive and compatible with all screen resolutions, and also feature a powerful permission system for easy user and role management.
Additionally, Botble has a powerful media system, supporting S3 and DO Spaces, and can be easily customized according to individual needs. With over 200 ratings of 5 stars on CodeCanyon and an average star rating of 4.95, Botble is a highly-rated team.
Other Larevel CMS Packages with Specific Functions
Here are a few of the best packages which are bound to make your developer's life easier than before. Each one of them can be sued to create a certain type of website.
ArtVenue
This application will allow you to build an image-sharing site. It will ensure that your site has features like profiles of members and geotagging and subscribing abilities.
Buzzy
Buzzy allows you to integrate different platforms and contains a post-editor to ensure that nothing of subpar quality finds its way to your site.
BeDrive
BeDrive provides users with the autonomy of leaving behind Dropbox and Google Drive as they create their personalized site with their desired features.
Smile Media
This package makes use of analytics to provide its customers with a chance to make a site that promotes different types of content. Smile Media succeeds in delivering a platform that aids in making a given post go viral.
Employer Zone
Managing the human resources of a company is integral for ensuring the success and longevity of the firm in the long run. Employer Zone is the perfect tool to manage your human capital. The package helps in the process of a job application, payroll management, and attendance records.
Mobile Site Builder Pro
Mobile businesses and their websites are difficult to run, but with the Mobile Site Builder Pro, this seemingly difficult task can be made easy. It not only provides you with a basic website but also takes it further by offering features ranging from e-commerce to social media.
Kotakin
Sharing files and documents with your acquaintances has now become a necessity in today's digital world. Therefore, there is a need to make this process as smooth as possible and Kotakin offers its customers exactly this.
Classic Invoicer
Does your firm lack an invoice system? Don't worry, as you can create your own. Whether it be storing information on customers or managing different modes of payment, this package will help you do it all.
ShotPro Community
Those of you who want to create your own version of Dribble where you can interact with the other creative souls out there might want to use ShotPro Community to do so.
Loyalty Cards for Mobile Site Builder Pro
This package lets users perform the simple task create an account and save coupons to be used in Mobile Site Builder Pro. Those of you who are heavy users of the package will find this to be a useful extension.
zFiles
This package takes file sharing to a whole new level with features like password protection, multiple file uploads, and setting a quota for disk usage. One thing is for sure – it will make sharing files highly convenient.
Niche Job Ads
Are you tired of relying on third-party sites to post job ads? Well, you can create your own platform with Niche Job Ads and make the task hassle-free.
Online Store CMS
You can increase your profits by a huge margin if you decide to eliminate the use of a third-party site to sell your products. Online Store CMS lets you do so with its ability to easily manage orders along with other features.