KingRoot is one of the most popular geek-like tools in China for those who do not have a geek's knowledge and experience. In other words, this tool is great to root your Android smartphone. It is also said to be the casual Android user tool.
Forget about ADB lines and commands, not to mention USB drivers to reach the root of your smartphone. Luckily, the application has just been enhanced with an English translation, so the rest of the world can access it now.
Download and support on http://forum.xda-developers.com/android/apps-games/one-click-root-tool-android-2-x-5-0-t3107461.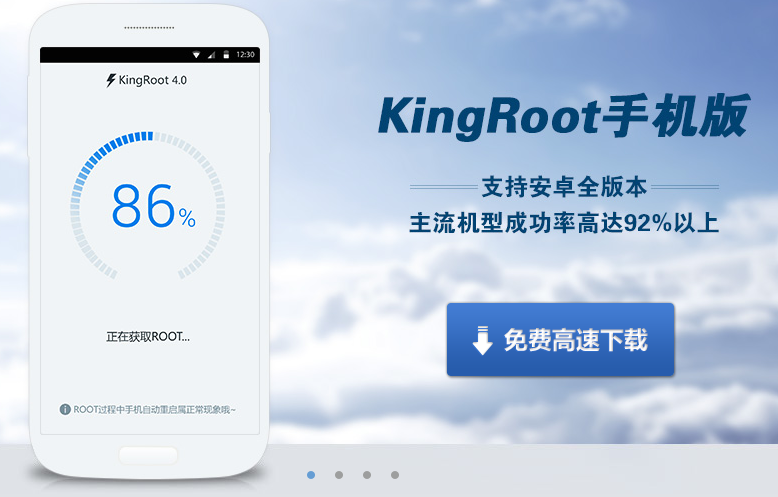 What makes KingRoot so great is that it does everything directly on the device, no third-party programs or installations are required. All you have to do is download and install it, anywhere from just a few clicks away. And once installed, KingRoot will connect with its own cloud server where it adopts and applies rooting solutions that are tailored to your android smartphone.
According to their own tests and user feedback, they boast an impressive success rate of over 60%—quite high considering how many different brands and models of phones there are! This means that if you plan to root your phone, KingRoot could be the right choice for you.
You can easily check whether or not your device is compatible with the application, so all you need to do is give it a try! With KingRoot's easy-to-use interface and reliable performance, the chances are high that you'll end up with a successfully rooted mobile device in no time at all.
KingRoot coders have made it abundantly clear what the application installs on your device – the SU Binary and KingUser being two of the most prominent pieces of software. The installation process is fairly straightforward: once you hit "root" in the app, it gathers all details from the ROM and submits them to a server without storing any personal information.
It's here that the IMEI gets encrypted and converted into a different number for better accuracy during the rooting operation. What's more, KingUser will be installed to help you manage your root access rights properly, so you always stay updated whenever an important system notification pops up.
Watch some videos to KingRoot in action below.
Ultimately, knowing what's going on under the hood puts you in complete control of how you want your device rooted or unrooted. After all, the ultimate authority should remain with users – not some mysterious group of coders! And that's why KingRoot keeps its users safe while they gain full root access to their devices.
In the end, using KingRoot is piece of cake. You do not have to be a geek to root your smartphone, just like you do not risk anything at all. Installation is simple and implies downloading the .apk file and running it. From that point on, everything becomes wizardry.