Web and mobile developer has been using the icon as a font for many years. Most developers only know about Font Awesome as it is the most popular and easiest service to use.
If you want to find icon font services similar to Font Awesome, here are the top free font icon services.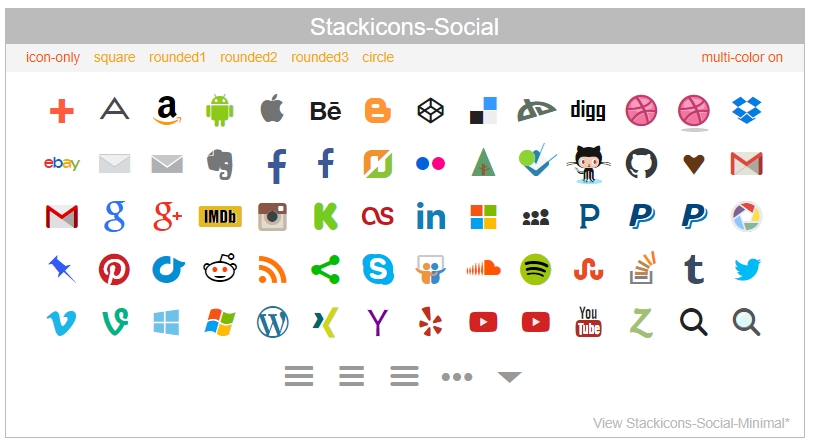 Available for over 60 social brands, StackIcons come in circles, squares, or rounded edges. Additionally, you can always color the icons to your favorite color. StackIcons come with CSS, which enables the user to style their icons into different container shapes. The icons are licensed under SIL Open Font and MIT.
Have you come across GitHub icons? Well, Octicons and GitHub are the same things. The icons are presented by GitHub and allow you to use the same icons on your project. The best thing about Octicons is that there are 170 icons to choose the best for your project. Although not as many as with other icons in this list, it is a pretty good number you may not exhaust in a couple of projects.
This pack comes with 15 categories of Google material design-inspired font icons for your project. All you need to get started is to install Material Design Iconic Font software, then copy-paste your desired icons into your project. You can modify the icons by enlarging them, creating borders, and more.
If you're a regular Twitter user, you must have come across such icons. The open-source emoticon project from Twitter was ported by Ellen Kasai and renamed Twemoji Awesome. The icons are the same as Twemoji Cheat Sheet in every aspect except that it uses a dash instead of the underscore.
It is a collection of font icons from popular Chinese websites, although some icons come from companies outside China. Significant contributors include Alibaba, Weibo, and WeChat, among others. For this reason, the icons are suitable for content or projects targeting the Chinese audience.
Previously known as the Android Community, these font icons have been created by Opoloo. The icons come in 250 extraordinary shapes in 5 sizes and 14 attractive colors. Additionally, all these fantastic features have been inspired by original android icons. If you're familiar with those android icons, you'll agree that they are some of the coolest icons in the market.
As the name suggests, Socialicious has been designed for popular social media websites like Facebook, Twitter, and Instagram. Additionally, the icons have been found to work well with Bootstrap. You can quickly build a button with Bootstrap by using class in conjunction with class fonts. However, you need a fair amount of knowledge of coding to pull off a unique font.
With 223 ready-to-use icons, Open Iconic works nicely with Bootstrap to give you the best font icons for your project. Additionally, you can use these kinds of icons with your custom stylesheet or framework. These icons are similar to Font Awesome in size; 12.4kb, which is just as small. Moreover, you can scale down the icons to 8px.
DevIcons are some of the few handcrafted font icons. A masterpiece by Theodore Vorillas, these icons contain 85 symbols and logos. The symbols and logos are made to look like applications such as GitHub, Angular, Gulp, and more.