Eventually, your PC will fail to boot. This can be caused by viruses, software or errors. When that happens you will need a bootable USB to repair the system or install a fresh one. This guide will help you get this task done.
You will need:
ISO file of the operating system you want
USB thumb drive with 8GB of space or more
Step to create a bootable USB
Open start and type cmd. Once you locate the program, right click on it and run as administrator. This will open the software and you will be able to create a bootable USB.
Enter DISKPART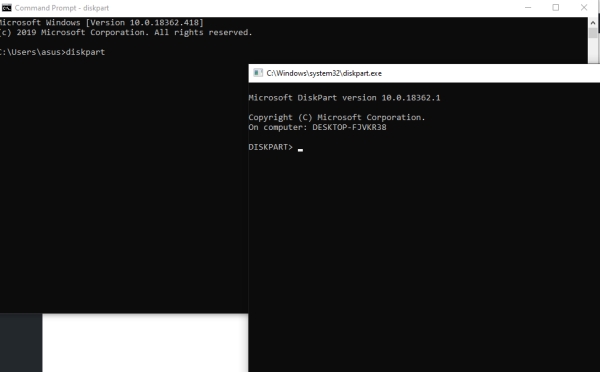 Once you have entered the desired command, simply press enter and you will be taken to the disk part software.
Enter  LIST DISK
Now you need to enter the aforementioned command and also confirm it by pressing enter. You will need usually 2 drives listed. Here you need to know which one is your USB. To do it, open Disk Management and look at the removable written below the drive. Also, you can check the size of the drive and match it to your USB thumb drive.
Type SEL DISK 1
You will type this command if the USB drive is located as number 1. If it is located at number 2 you will type SEL DISK 2. Once you are done, enter CLEAN and press enter. This common will format the drive.
Type CREATE PARTITION PRIMARY
This is the first code you have to enter. Once you are done, enter LIST PAR which is used to select the partition and then enter ACTIVE (used to make the partition active).
Format by entering FORMAT FS=FAT32 LABEL="ABC" QUICK OVERRIDE
This is another formatting you will need to complete. At this point you can assign a new letter to the partition using command ASSIGN. Once done enter exit and press enter. Copy and paste the ISO file to the USB drive.
Change the boot order
Go to BIOS and make the USB you have created as a primary boot device. Each PC is unique so you may need to get a suitable list of steps for your computer. Confirm and reboot. You will be welcomed by the Windows installation screen.
Conclusion
It may sound complicated and time-consuming, but this process is very simple and all of you can do it without any issues.