In the world of manufacturing, there are a number of software programs that can help you carry out various tasks.
One type is ERP, which stands for enterprise resource planning and helps with all aspects of your business from production to inventory management.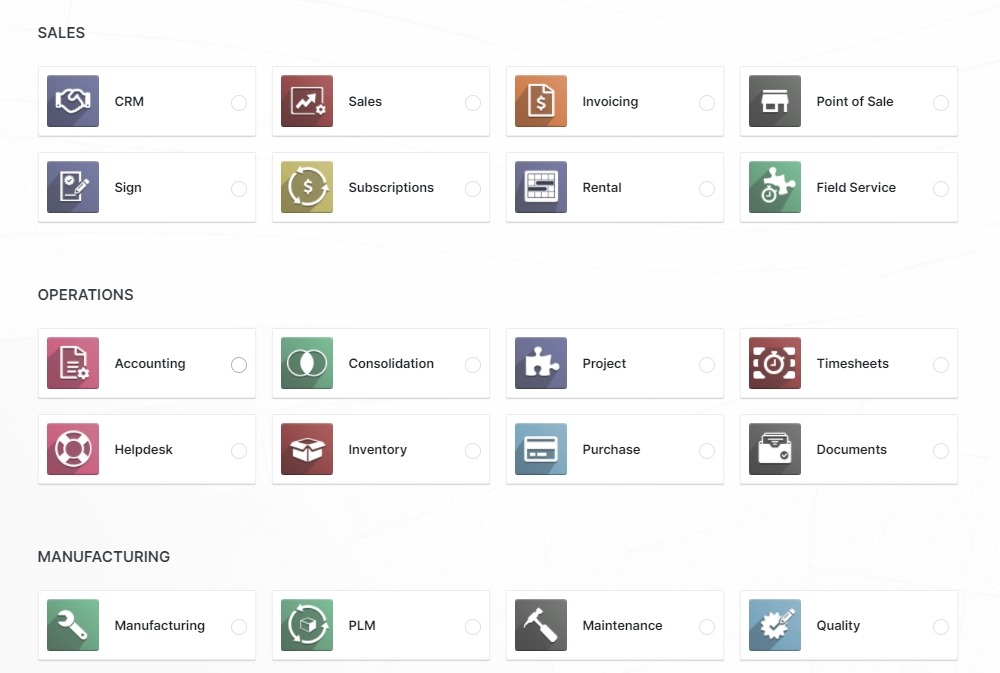 Another type is MRP, which stands for material requirements planning and helps you figure out what parts need to be ordered in order to complete a project on time.
And finally, PLM, which stands for product lifecycle management and integrates data from across the entire company so everyone has access to it regardless of their department or location. You'll want to use each one depending on your needs!
ERP
ERP, as mentioned above, is a type of manufacturing software that helps you manage all aspects of your business. This means it includes customer relationship management (CRM) and sales force automation (SFA), which allows you to keep track of the various customers you work with and monitor any frequent issues they may be having.
It also integrates financial tools, such as general ledger and accounts receivable/payable. From there, it works with HR to help create timesheets for employees or see how much vacation time they have left; supply chain management; production planning; and more!
ERP is used by companies in every industry out there because it's so adaptable and can handle just about anything: no matter if your company is an eCommerce site or a manufacturing plant, this software can help you be more efficient and better serve customers.
MRP
Another type of manufacturing software you might use in your business is MRP – material requirements planning. This type of software helps to ensure parts and materials are available when they need to be for production; importantly, it helps make sure there's enough time between the ordering and receiving process so that the materials aren't wasted!
In short, MRP uses historical data from the company to create a schedule that orders new parts or materials. It then makes sure that there are no discrepancies between what's been ordered and what's needed during the production run. This type of information is helpful because it can help identify potential issues before they happen!
Companies that use MRP software typically have complex production schedules because there are so many parts. A great example is an aircraft manufacturer or car company; it's important for them to make sure all the parts are ordered correctly and delivered on time, not only for this month's production run but future ones as well.
If an error occurs in the process of ordering one part, it could cause delays further down the line – which can be costly, both financially and in terms of customer satisfaction! That's why MRP software helps businesses avoid these unnecessary issues.
PLM
Last but certainly not least is PLM, which stands for product lifecycle management. This type of software is ideal for companies that make complex items and need to keep track of every detail. It works by integrating data from across the organization; this can include manufacturing, marketing, design, and engineering departments.
PLM sometimes goes by other names like "digital thread" or "digital twin." Essentially it uses data from various sources – such as CAD files – to create a virtual model of the product. That way, everyone has access to all the information they need about it!
This type of software also helps businesses collaborate effectively because everyone has access to all the same information; different people might be working on different parts or steps in the process at any given time but with PLM they don't have to worry about conflicting versions of the information or who's responsible for what.
PLM software can also help businesses track warranty registrations, gather feedback from customers, and even do virtual testing before creating physical prototypes!
Conclusion
There is a wide range of manufacturing software options available to companies, many of which focus on improving specific areas or processes.
Material requirements planning is great for keeping track of orders and making sure they're always available when needed; it's helpful for businesses that have complex production schedules with lots of parts – think airplane manufacturers or carmakers!