A Warehouse Management Software System (WMS) is a comprehensive system designed to manage the operations of a warehouse. It is used to track and manage the movement of goods within a warehouse, from the time they enter the facility until they are shipped out. It also helps to ensure that the warehouse is organized and efficient.
The system can be used to manage inventory, optimize workflow, and improve customer service. It can also be used to automate the process of receiving, storing, and shipping goods. WMS systems can help to reduce costs, improve accuracy, and increase customer satisfaction.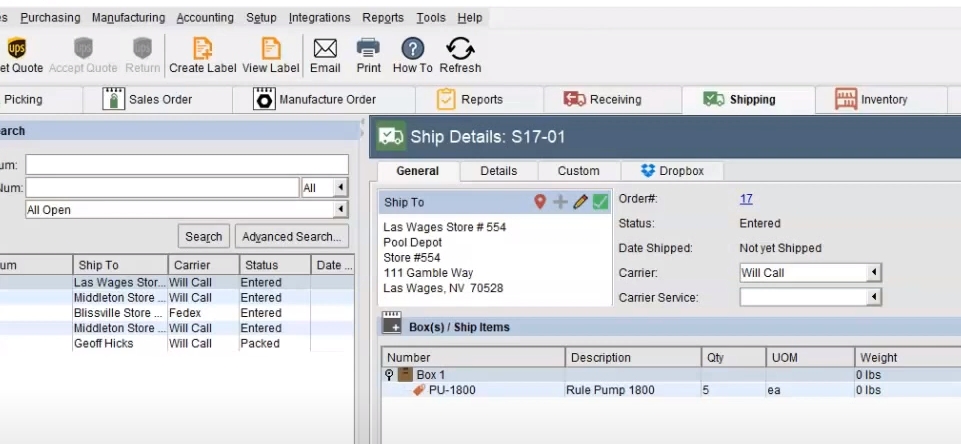 Following are the best 10 warehouse management software systems:
Fishbowl Inventory comes with a free trial to explore its features, inventory management, sales and expenses, order management, and so on. It works with lots of currencies and keeps track of time, labor, and shipping. The software can be fully customized for the user's unique needs and allows numerous plugins.
Softeon provides solutions for the entire supply chain management. It operates in the cloud, so managers and users can access it from any Internet-connected device. Functions are quite complex and diversified, while the program and its features will grow along with the business. It covers tracking, task management, orders, shipping, and so on.
HighJump is regularly updated, so you can always count on the top-rated features out there. It operates in the cloud for easy access and supports multiple client operations, task management, labor, picking features, yard management, and others. It is stable, robust, and less likely to show any signs of weakness.
A fully featured and scalable software, TECSYS WMS is a multi-awarded program operating in the cloud – suitable for larger businesses. There are numerous picking methods, dock management, special production services, shipping, and others. The workflow can be fully customized for a specific experience.
Astro WMS is great for both small and large organizations. It keeps getting updated on a regular basis, so it is likely to become a viable and scalable solution for your business too. It can be integrated with ERP systems and allows deep individualization. You have real-time overviews, plans, resources, yard management, voice picking, and others.
NetSuite WMS is one of the leading names in this industry. It allows RF scanning, strategy definition, task management, return management, cycles, and real-time information on demand. It is super easy to use and information is fairly simple to observe. Given its popularity, there are loads of third-party plugins available too.
Running in the cloud and allowing a simple interface, this software will grow along with your business. It is extremely accurate and provides barcode scanning, centralized management systems, warehouses, packing, shipping, and so on. It can take data from everywhere.
Infor SCM is specific to warehouse operations, but it provides industry-specific solutions based on your field. It can be used in transportation, shipping, labor planning, inventory management, and finance-related aspects, among others. It is easy to use and literally covers the entire supply chain management.
Manhattan Associates was designed by warehouse specialists for both newbies and experienced users. Its solutions have been multiple awards and include integration with material handling equipment, scheduling, any kind of operation involving the yard or warehouse, vendor performance, and support for handheld devices.
Bright Warehouse provides great value for money and will not really affect your finances – it brings in anything from bar codes, labeling, shipping, and quality control to shipping and inventory management. The software is super scalable and does not require installing any programs. Moreover, it can allocate orders, pick tasks and assign workers.