The version of an operating system is important because it can determine how compatible a computer is with software. It's also helpful to know the version if you need technical support. For example, Apple releases new versions every year, and they are typically released in September or October so make sure your current OS isn't outdated!
It's always a good idea to upgrade as soon as possible when you hear about new software releases. Letting your system get outdated with old versions leaves you vulnerable to serious cyberattacks or malware infections that could potentially ruin your computer; so make sure all updates are installed before hand!
A common misconception about MacOS is that all updates will have installation processes that take roughly 20 minutes on average; there are many factors that could affect the time taken to install these updates including internet connection speed as well as any update-specific requirements like reboot frequency after each update. Many users find waiting hours for an installer to finish frustrating, which may cause them to miss out on important security updates.
Steps to check Mac OS version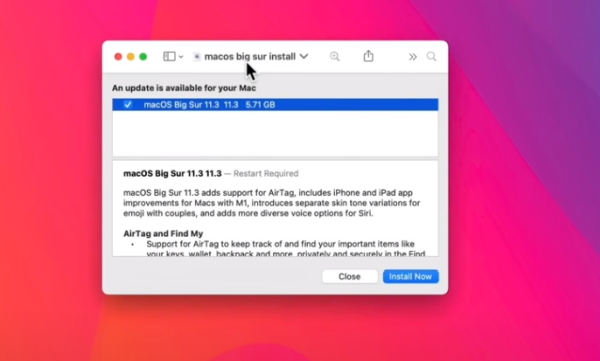 When it comes to Mac computers, the operating system is called macOS. It's part of Apple's lineup and users can easily check which version they're running by accessing the "About This Mac" option in System Preferences.
Check the macOS version with Command+Space to open Spotlight and type in "About This Mac" to open up System Information application.
Choose Software from left-side pane, scroll down to Installation Date, then look for your current OS Version listed on right-hand side of window below that.
Recent versions of Mac OS
Big Sur
Apple's macOS operating system was the 17th version. It followed Mac OSX Catalina and was released on November 12, 2020.
macOS 11 Big Sur has updates to the appearance of the operating system. It is more colorful and lighter. The windows are bigger and have a sidebar. The Dock is floating on top, and the menu bar is more transparent. All of the app icons are new.
Big Sur includes many new features. These new features enhance Control Center, Notification Center, and more. You can use them to change settings on your computer like WiFi and sound. The new changes are applied to some default programs as well, including Safari, Mail, Maps, Messages and Music. The changes were made so that the user experience between iOS and macOS was better and seamlessly.
Catalina
Catalina is the 16th version of Apple's operating system which was released on October 7, 2019. Catalina includes a lot of new features, like performance improvements. But the most important change is that it doesn't support 32-bit applications anymore. This means that less "old" code is on the system and it will be faster and lighter.
Catalina is a new version of macOS and it has a new feature called Sidecar. This allows an iPad to show what is on the computer screen when connected with a wire, or without wires. Catalina also introduces Project Catalyst which makes it possible for iOS and iPadOS apps to work on your Mac.