Nowadays an app is required to have suitable layout for each screen size, esp. when Flutter can produce apps with the same code base.
Flutter offers LayoutBuilder widget which can build a widget tree that can depend on the parent widget's size. When parent widget changes its width and height, LayoutBuilder will act accordingly to change its size to match the parent's size.
The example below shows how to use Row or Column depends on screen's width.
class HomePage extends StatefulWidget {
  @override
  _HomePageState createState() => _HomePageState();
}

class _HomePageState extends State<HomePage> {
  @override
  Widget build(BuildContext context) {
    return Scaffold(
      appBar: AppBar(
        title: Text('Layout Builder'),
      ),
      backgroundColor: Colors.white,
      body: SafeArea(
        child: Container(
          width: MediaQuery.of(context).size.width,
          height: 300,
          color: Colors.blue,
          child: LayoutBuilder(
            builder: (BuildContext context, BoxConstraints constraints) {
              if (constraints.maxWidth > 600) {
                return Row(
                  mainAxisAlignment: MainAxisAlignment.center,
                  children: <Widget>[
                    Text('Text'),
                    FlutterLogo(size: 200,)
                  ],
                );
              } else {
                return Column(
                  mainAxisAlignment: MainAxisAlignment.center,
                  children: <Widget>[
                    Text('Text'),
                    FlutterLogo(size: 200,)
                  ],
                );
              }
            }
          ),
        )
      ),
    );
  }
}
Result when parent's width is bigger than 600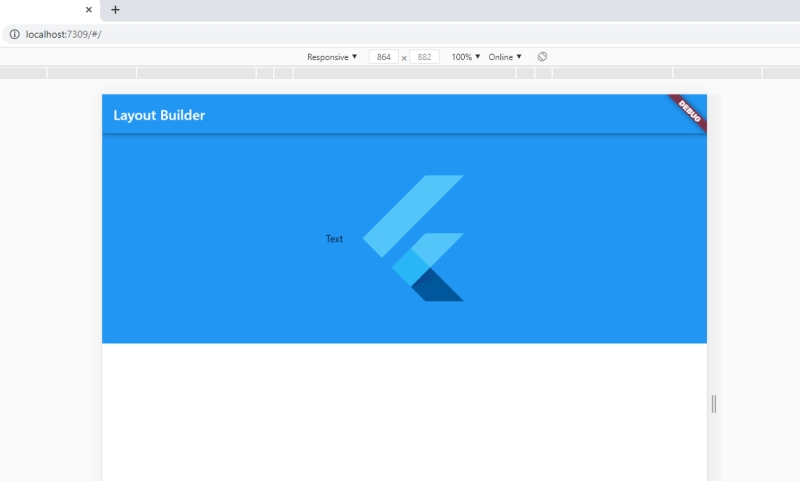 Result when parent's width is smaller