Are you currently in the lookout for a smart speaker that offers nuance and fidelity? Then the Echo Studio is the perfect device for you. This is ideal for people who like to have a good time and get 3D audio experience and who are not afraid of some thumping bass.
At first look, the Echo Studio seems like a more powerful and impressive Echo speaker. You will see numerous iconic Echo designs, from the iconic blue ring at the top to the cloth covering. Not to mention that it also has hints of what Google and Sonos have in their high-end ranges. This audio device boasts a powerful, imposing feel that will be certain to get looks after you set it up.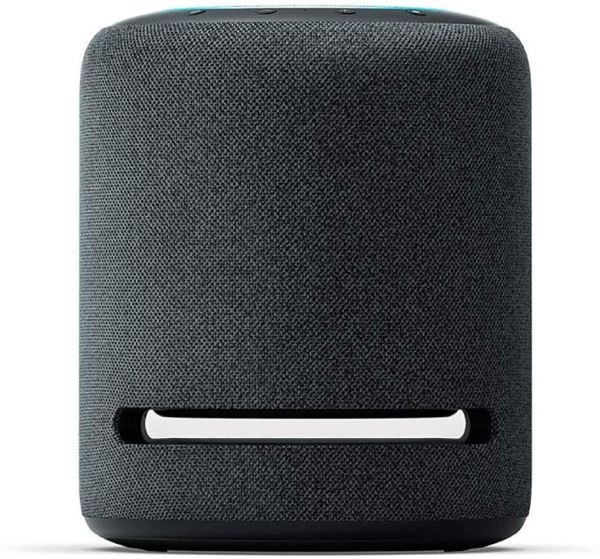 Echo Studio is a 55-millimeter mid-range speaker that uses the cut-out to make the most of the bass output while playing heavier songs at the same time. Amazon have upgraded the software of Echo Studio to make sure it could compete within the modern speaker marketplace.
It boasts Dolby Atmos that can convert average audio, making it feel much fuller and richer. Indeed, that could be turned off with the help of an app along with any enhancing feature. It could often sound much better with none of such features turned on depending on what you listen to. Nonetheless, that would be up to you to choose.
Apart from that, the Alexa app will enable you to change the default EQ to make sure it suits your style of sounds or music the way you like. You could tune the mids, treble, and bass to fit your requirements. Take note that the audio you put through it will identify how good it will sound. The best part here is that it supports high-bitrate and lossless audio from services such as Tidal and Sony.
Pros:
Good value for the money
Synergy along with other Fire TV and Echo products
Dolby Atmos 3D
Weight bass and offers massive sound
Excellent performance from Alexa
Cons:
Weighs a tone
The bass could be overpowering
Not as nuance in the treble or midrange
Bottom Line
The enthusiasm of Amazon to push sound quality, as well as its adoption of high-resolution audio, has to be a great thing. The Echo Studio is one of those audio devices that can compete in the crowded smart speaker setting.