If you have seen Apple HomePod Mini, you will agree that Echo Dot 4th Gen looks almost the same. Notably, the power cable is mounted at the same angle. The same applies to many other features. However, certain visible differences tell the two gadgets apart. The main difference is that the Echo Dot 4th Gen cable is removable, and not fixed like the case of the Apple HomePod Mini. Additionally, the cable is flanked by a 3.5mm audio line. The audio line facilitates wired listening by the user.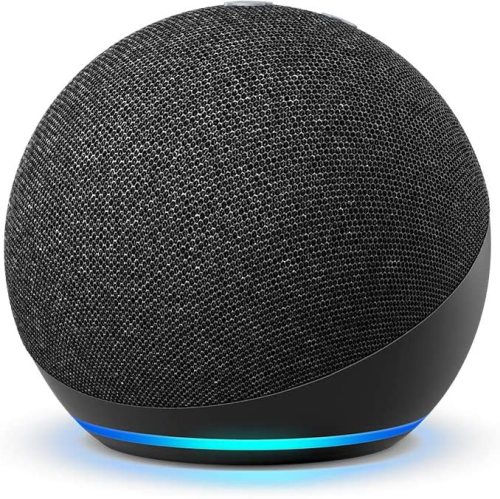 Dot's spherical design makes it different from the larger Echo 4th Gen. The design is such that Echo Dot is looped at the bottom. That provides it with a base where you will find the famous Amazon trademark blue ring of light. This product also has better-reflecting capabilities, and this is easily noticed when facing bright surfaces such as glass. Additionally, this generation boasts of more height, although the circumference at its widest is the same as that of 3rd generation specs.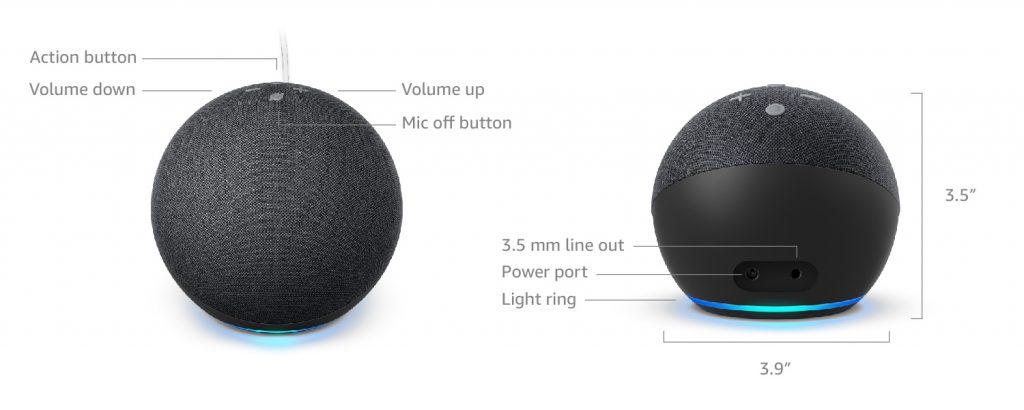 What are Echo Dot 4th Gen's famous features? The device has beneficial enhancements in terms of setup. Most importantly, Dot's buttons, i.e. microphone on/off, volume up/down, and the Alexa button are all found on top. The ball consists of a fabric mesh at the top. It is split diagonally into two halves, where the first button half is made of plastic and the half is a base made of plastic. To set up this, all you need to do is press the + button on the device section of the Alexa and let the app scan for new devices. You will then add the new device, and it will be added to your home.
| | |
| --- | --- |
| Size | 3.9" x 3.9" x 3.5" (100 x 100 x 89 mm) |
| Weight | 12 oz (341.3 g) Actual size and weight may vary by manufacturing process |
| Wi-Fi connectivity | Dual-band Wi-Fi supports 802.11a/b/g/n/ac (2.4 and 5 GHz) networks. Does not support connecting to ad-hoc (or peer-to-peer) Wi-Fi networks. |
| Bluetooth connectivity | Advanced Audio Distribution Profile (A2DP) support for audio streaming from your mobile device to Echo Dot or from Echo Dot to your Bluetooth speaker. Audio/Video Remote Control Profile (AVRCP) for voice control of connected mobile devices. Hands-free voice control is not supported for Mac OS X devices. Bluetooth speakers requiring PIN codes are not supported. |
| Audio | 1.6" speaker. 3.5 mm line out for use with external speakers (audio cable not included). |
| System requirements | Echo Dot comes ready to connect to your Wi-Fi. The Alexa app is compatible with Fire OS, Android, and iOS devices and also accessible via your web browser. Certain skills and services may require subscription or other fees. |