Switch port management is an important role for any IT specialist. They can gain insights into the current network usage, CPU strain, previous port usage, and more by monitoring the switch ports on a network. This information is valuable for optimizing the network and troubleshooting potential issues. Switch port management can also help to protect against unauthorized access by monitoring port activity and restricting access to certain ports. By keeping a close eye on the switch ports, IT specialists can safeguard the network and ensure that it runs smoothly.
Are you looking for a comprehensive and reliable switch port monitoring tool? If so, you're in luck! We've compiled a list of the five best tools on the market. Read on to learn more about each one.
What is a Switch Port?
A switch port is a physical connection that allows devices to connect to a computer network. There are several types of ports, including Ethernet, USB, and HDMI. Each type of port has a different function and purpose. For example, an Ethernet port is used to connect computers and other devices to the internet, while a USB port is used to connect devices to a computer. HDMI ports are used to connect TVs and other display devices to a computer.
Each port has its own unique identifier, called a MAC address. The MAC address is used to identify the device that is connected to the port. When you plug a device into a switch port, the switch uses the MAC address to determine where to route the traffic.
Switch ports can be monitored for several different purposes. For example, you can monitor port activity to see which devices are using the most bandwidth. You can also monitor CPU utilization and memory usage on a per-port basis. This information can be valuable for troubleshooting network issues and optimizing network performance.
There are three main types of switch ports: access ports, trunk ports, and hybrid ports.
Access ports are used to connect devices like PCs and laptops to the network.
Trunk ports are used to connect two switches together or to connect a switch to a router.
Hybrid ports can be configured as either access or trunk ports, depending on the needs of the network.
Factors to Consider When Choosing a Switch Port Monitor
Budget: There are a variety of tools on the market, ranging in price from free to several thousand dollars. It's important to choose a tool that fits within your budget. You don't want to overspend on a tool that you won't use frequently or that doesn't have all the features you need.
Customization: Some tools allow you to customize the interface and dashboard to suit your specific needs. This can be helpful if you need a specific type of report or if you want to track certain types of data. Other tools may not offer as much customization, but they may be easier to use. It's important to find a tool that strikes the right balance between customization and ease of use.
Speed: Some monitors can take a long time to generate reports or may not update in real-time. This can be frustrating if you need to troubleshoot an issue quickly. Other tools are much faster and will provide you with the information you need in a timely manner. Choose a tool that updates quickly and provides accurate data.
Ports: The number of ports is another factor to consider when choosing a switch port monitoring tool. If you have a large network, you'll need a tool that can monitor all of the ports on your switches. Some tools only allow you to monitor a limited number of ports, so be sure to choose a tool that can scale to your needs.
Stackability: Some switches can be stacked on top of each other to create a single virtual switch. This is called stacking. If you have a stacked switch, you'll need a port monitoring tool that supports it. Not all tools support stacking, so be sure to check before you buy.
Power: Some tools consume a lot of power and can generate a lot of heat. This can be problematic if you have a small data center or if you want to use the tool in an environment where the temperature is a concern. Choose a tool that is energy-efficient and doesn't generate a lot of heat.
Security: Some port monitoring tools can be used to eavesdrop on network traffic. This can be a security concern, especially if the tool is used on an unsecured network. Be sure to choose a tool that uses encryption to protect your data.
The Best Switch Port Monitoring Tools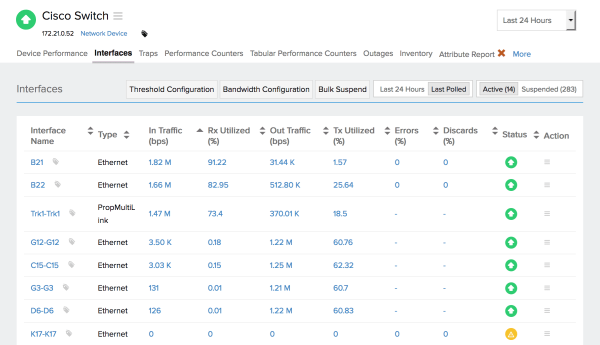 Site24x7 is a comprehensive network monitoring tool that helps you keep track of your device performance and bandwidth utilization. It automatically discovers all the switches and ports in your network and maps your entire network.
You can also view port-wise performance stats to determine which ports are being used the most and what kind of data is flowing in and out of them. This information can help you make better decisions about how to allocate bandwidth and other resources.
You can also track traffic sources for any SNMP-enabled device. Critical performance parameters like CPU utilization, jabber packets, packets to BC/MC address, device temperature, and buffer failures can be monitored using performance counters.
Custom templates can be created for devices from any vendor with SNMP support. The Network Health Dashboard gives you a snapshot of your network's overall health, including top interfaces based on various traffic criteria. Downtime notifications can be received via email, SMS, voice call, instant messenger, RSS feed, or push notification depending on your preferences.
Paessler's PRTG Network Monitor is a comprehensive and affordable solution for monitoring your Cisco switches. With PRTG, you can monitor all aspects of your switch performance, including CPU utilization, temperature, uptime, traffic, and ports. The PRTG dashboard provides a central location from which you can monitor all your network devices, regardless of the manufacturer.
Paessler Cisco switch monitoring with PRTG ensures that your network stays up and running smoothly. By monitoring CPU, temperature, uptime, traffic, and ports, PRTG provides a comprehensive overview of your network devices – allowing you to quickly identify and fix any errors. The customizable notification system alerts you immediately in the event of any problems.
PRTG also comes with a customizable notification system that immediately sounds the alarm in the event of problems. With Paessler's PRTG Network Monitor, you can be confident that your Cisco switches are always performing at their best.
Network downtime can be extremely costly for businesses of all sizes. That's why it's important to have a reliable network monitoring solution in place like Nagios. With Nagios, you can monitor your entire network via SNMP including switches, routers, and other devices.
This allows you to quickly identify and resolve any issues before they cause downtime or data loss. In addition to monitoring switch port usage, Nagios can also monitor a variety of other metrics including errors, discards, and unknown protocols. This makes it an essential tool for keeping your business' network running smoothly and preventing costly outages.
Maintaining a network's performance and safety is essential for businesses of all sizes. SolarWinds' switch port management and device tracking solution make it easy to keep track of everything happening on your network. The User Device Tracker can automatically discover, map, and monitor switches and ports, making it easier to find devices and retrieve key details like username, port details, and connection history.
By finding the current location of a user, you can quickly and effectively respond to events and possible network security threats. With SolarWinds, businesses can also watch their network to see when a specific MAC address or hostname connects, gathering information on overall switch capacity that can be used to request new equipment for their network.
With the ability to search by IP address, username, hostname, or MAC address, you can more effectively track endpoints on your network. Additionally, the UDT makes it easier to analyze port usage and capacity on your network so that you can optimize your strategies for better performance.
Checkmk auto-discovers the relevant metrics for you, so you can get up and running quickly. You can also use agent-based monitoring, agentless monitoring via HTTP/SNMP, or direct API connection to many applications. Plus, with its powerful 'state' system, you can quickly identify problems in your IT environment. And if that wasn't enough, Checkmk also comes with role-based access controls to give you tight control over who has access to what.
With Checkmk, you can automate your monitoring tasks so that you have more time to focus on your business goals. It's easy to add new components to your monitoring setup, and the automatic detection and configuration ensure that everything is configured correctly.
You can also use a modern rule-based 1-to-N configuration to save time and make it easier to manage complex environments. Automating the configuration and operation with the Checkmk REST-API makes it easy to integrate other systems and get data from a wide range of sources. And with the Agent Bakery, you can centrally manage your agents and automate agent updating.