Let these apps remind you to take medicine and supplements.
Medication Reminder & Pill Tracker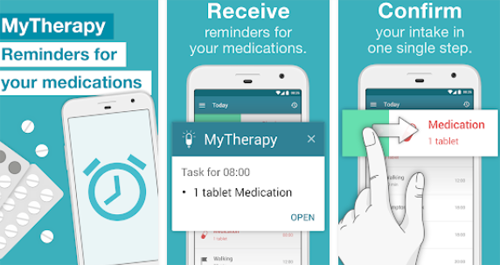 The app in question works perfectly when it comes to reminding you when you must take a medicine or a supplement is. You will create your profile and select a time frame during which the app will notify you. It is a simple app that does the job perfectly. MyTherapy Medication Reminder & Pill Tracker features pill reminder and tracker for all medications, logbook for skipped and confirmed intakes, wide range of dosing schemes within medication reminder support, and journal sharing.
Pill Reminder and Medication Tracker by Medisafe
Obviously, the app will notify you when you should take a pill, but it also has a massive database regarding the medications, comes with frequent updates and it uses all-new user interface. The app is a bit complicated to use, so you will need time to get used to it. Pill Reminder will notify you for all your meds, times and displays your notes such as "take with food". It can also tracks  dozens of measurements – such as blood pressure, weight, and glucose all in one place.
This is the simplest app of them all. You get a medicine reminder which looks perfect and comes with the basic feature. It is very accurate, easy to use and it is even optimized for seniors.
Mr. Pillster pill and medicine reminder alarm app
Basically, Mr. Pillster is a similar app as the first one we have mentioned here, but it is more focused on taking vitamins. Also, it is optimized for multiple users, for the entire family actually. It comes with the modern and interesting user interface and it uses latest graphics. The app is nice to use and it really looks amazing. In addition, it is primarily developed for students, so there are plenty of additional options.
Best medication reminder & pill tracker: Medica
You will need some time to get used to this app. It comes with a lot of features, such as notifying you when to take a medication, which dosage, during which meal time and etc. All the features made the app so great to use, but only if you take more than 2-3 medications.
All of these apps will make sure you never miss your medication ever again.