If gaming is your thing and you are looking for some fantastic adventure in gaming, then there is no better option than having an excellent quality monitor. But before you jump to get yourself a high-end quality monitor, here are some things you should probably put into consideration:
Price of the monitor.
The size of the panel.
The display resolution of the panel technology.
The pixel rate and response.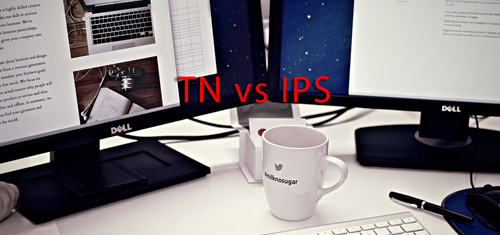 In between these things, the panel technology is the most essential that you should consider. Among the range of monitors available, TN and IPS are famous for their display technologies. Both of them has some incredible and amazing features that confuse the buyers to choose the better one out of the two.
Here is the comparison between Twisted Nematic (TN) and In-Panel Switching (IPS)
Twisted Nematic (TN) Panel Technology
Because of its quick reaction and refresh ratio at inexpensive rates, TN is a popular panel technology in the company of gamers. It is not only fashionable and common for its affordable price but because it is among the first and the oldest technology that gaming monitors have ever used. TN monitors sustain maximum brightness and consume lesser energy by creating the blending with LED back-lighting.
Advantages of TN monitors
Their response time is, and that makes them excellent for gaming.
They can provide maximum brightness by consuming lesser energy.
They are very affordable compared to other monitors.
They have speedy interchangeable pixels that provide lag-free gaming.
TN monitors design is for gaming purposes.
Disadvantages of TN monitors
The color shift takes place at the time of expansive landscape thereby limiting the viewing angle.
The color resolution is only up to 18 bits. Hence, no color representation.
In-Panel Switching (IPS) Panel Technology
In-Panel Switching gaming monitors give you the best viewing option. It has color reproduction and the broad angle view. IPS is a kind of LCD panel that comes with a thin-film transistor, and because of that, they are no different than LCD technology. Both IPS and LCD  technologies share the basic principles.
Advantages of IPS monitors
IPS has an excellent reproduction of color.
They assist in advancing the visual encounter for gamers.
They are not only efficient for gamers but also for photo and video editing.
IPS produces high gray-scale display.
Disadvantages of IPS monitors
IPS monitors are on the higher range in the market.
Their response time is slower as compared to other monitors.
At times it appears to be hard to distinguish black color resulting in difficulty with contrast.
So, Which one is better for gaming?
Twisted Nematic monitors do not have color representation whereas, In-Panel switching comes with color representation.
The response time in TM monitors is quick whereas IPS Panel Technology monitors have a lesser response time.
The viewing angles in IPS Panel Technology monitors is better than the TN monitors.
Twisted Nematic monitors are quite affordable whereas, IPS panel technology is on the higher side of the pricing.
Hence, it entirely depends on the gamer's preferences. If you are someone looking for a better display quality over response time, then IPS Panel Technology monitors are the option. But if you are willing to comprise the image quality over the quicker response time, then TN monitors will serve you best. Usually, gamers favor TN monitors over IPS panel technology because of their quick response time.