PICTEK gives you the edge whether you're playing FPS or MOBA games. Let me introduce the PICTEK Wireless Gaming Mouse – an awesome PC mouse that gamers would love to have. The mouse's terrific functions and design say that it offers excellence for die-hard gamers. Well, no doubt about it.
The PICTEK Wireless Gaming Mouse is perfect for long hours of immense gaming. RGB lovers would love the RGB backlit that provides you with 3 lighting zones, such as the mouse's scroll wheel, rear, and logo. For those who like to use wire when they're gaming, don't worry! The PICTEK Wireless Gaming Mouse also has a wired mode. You can use the mouse for up to 48 hours when the RGB is off and 36 hours when you use the lights.
Are you immense in the FPS game you're playing? Relax because you can charge the mouse and continue playing all night. The PICTEK mouse has a 5.2 Type-C charging cable. (Say goodbye to battery draining when you're playing games!)
Oh! Wait until you use the 5 different adjustable DPI levels. The mouse's design gives an excellent edge over other players. With a 1000HZ polling rate, the game delay is low, like 1 ms. (You know what that means – PICTEK Wireless Gaming Mouse is the best choice among gaming mouses in the market.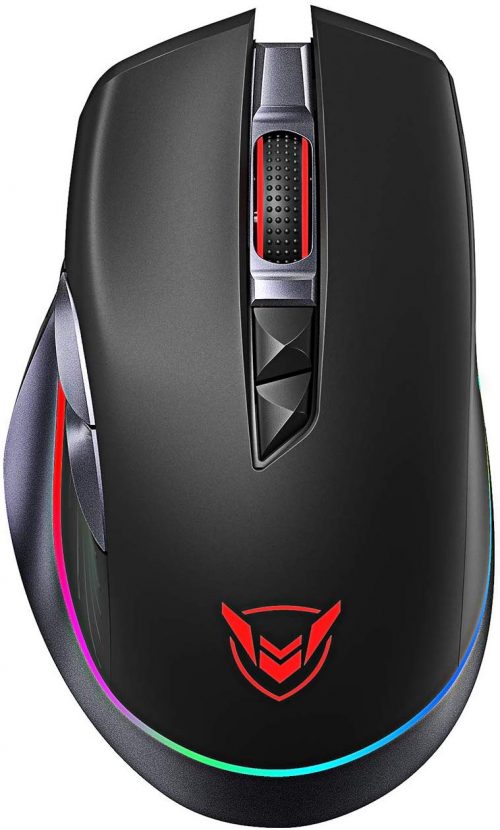 Features
RGB Backlit – Be surprised by the different lighting levels of the gaming mouse – single-color, neon, and colorful streaming.
Wireless/Wired Mouse – Even though the PICTEK mouse is wireless, you can still use it wired. (Thanks to PICTEK, you can charge the mouse anytime and play games as you like.)
Five Adjustable DPI Levels – Now, here's a game-changer for those newbie gamers who want to experience the edge of gaming – PICTEK Wireless Gaming Mouse has 5 adjustable DPI levels! (That's awesome if you're a gamer "who loves to win!"
Supports 8 Buttons Setting – Using the included CD software, you can use customized buttons setting. (You're using the right mouse if you're into FPS games.)
Pros
Ergonomic comfort for your right hand
Rechargeable PC mouse
Excellent programming functions
Customized RGB backlit
Cons
Give your gaming an advantage by using an excellent gaming mouse. The PICTEK Wireless Gaming Mouse has all the functions you need to beat your competitors. With its superb performance, you would enjoy playing games to the next level. So, come now and use this gaming mouse today!