MEmu is a brand new Android app player that brings apps and games from Android to Windows PC. It supports nearly all devices powered by Windows. Compared to other Android emulators, MEmu provides quite high performance and compatibility.

There are many things to do on MEmu besides gaming. Users can chat with friends using apps such as Line and watch TV channels.

MEmu has many features which are similar to other app players.
– It allows many elements such as CPU, memory size, resolution and device model to be customized.
– It supports external keyboard and joystick mapping to screen touch.
– Sensor data like accelerometer is passed through to Android, so player can play sensor-based games such as car racing.
– It supports GPS location.
– App can be installed easily using file sharing between Windows and Android.
– It supports one-click android system creation / clone / deleting.
– Multi MEmu instances can be run on simultaneously.
– Users can record videos and take screenshots easily.
Minimum System Requirements
– Windows Vista/Windows 7 SP1/Windows 8.1/Windows 10
– Intel or AMD CPU (with Virtualization Technology support preferred)
– GPU with OpenGL 2.0+ support
– 1 GB RAM
– 2 GB of free disk space
Install & Setup
Access http://www.memuplay.com/ then click the "Download" button to download the installation file. Execute the file to start setup process.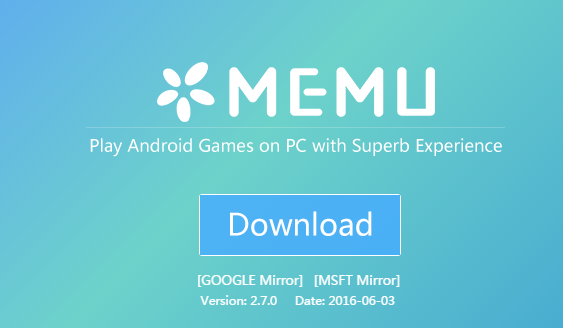 Install App to MEmu
There are 2 ways to install apps in MEmu. The first one is to download apps from MEmu Market or Google Play Store. The 2nd way is to use APK button on MEmu's sidebar to transfer the APK file of the game or app from your PC.