Yes, you can use a wired and wireless device on the same network. A mixed network can be a great way to use both wired and wireless devices. A router with Ethernet ports enables you the opportunity for this. A mixed network can offer the best of both worlds by using wired Ethernet connections in addition to your Wi-Fi router or modem! In this article, we will be discussing the idea of using a wired and wireless device on the same network. There are many benefits to this, but there is a catch: you must own a wireless router that also has Ethernet ports.
Wired devices are of course those that have a physical Ethernet connection. These devices include things such as computers, laptops, televisions, and anything else that plugs into an electrical outlet. On the other hand, wireless devices are any phone or tablet that is connected to your network using Wi-Fi.
What's so great about using wired and wireless devices together?
Well, the answer to that is very simple. In today's world, it is increasingly common for people to own multiple electronic devices in addition to phones and tablets. It is much more convenient if all of these devices can be used on one network!
For instance, let's say you have a television, computer, laptop, smartphone, and tablet. Wouldn't it be nice if they could all communicate with each other without requiring any extra equipment — such as a switch or a wireless extender? Well in order for this to happen, you'd need a router that supports wired Ethernet connections plus wireless Wi-Fi.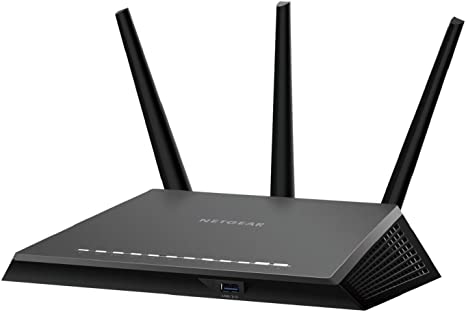 The Nighthawk AC1900 Smart WiFi Router (R7000) would be perfect for this type of setup. With this device, you can simply connect your computer and television to the router using an Ethernet cable for improved speeds and performance (faster than Wi-Fi). Then, you would use your phone or tablet as a wireless hotspot to provide internet access for all of your other devices.
What is the "catch" with using a wired and wireless device on the same network?
The catch is that in order to use both wired and wireless connections on your router at the same time, it must have Ethernet ports. Many routers only offer one landline Ethernet port which means that you can connect one wired device such as a desktop computer or Smart TV.
If you want to connect more than just one wired connection, then purchasing a switch is the only option for you. A switch is simply a device that lets you attach multiple devices to it using cables.
For instance, we would recommend taking a look at the NETGEAR 5-Port Gigabit Ethernet Unmanaged Desktop Switch (GS605). This small device has five separate ports and it will allow you to connect up to five wired devices via an Ethernet cable.

You may also be able to purchase one with more than five ports depending on your needs; but generally, these types of switches should do the trick if you need help connecting other wireless devices such as routers or modems.
Conclusion
In conclusion, yes, you can use both wired and wireless devices on the same network by owning a router that has built-in Ethernet ports. These types of routers are becoming more and more popular because many people own multiple electronic devices in addition to phones and tablets. This is especially true for those with families; no one would like having to switch between three separate networks just to use their computer, phone, and tablet.
It really does pay off for you to start using wired connections on your router because it will allow you to easily connect multiple devices without having to purchase an external switch. Not only that, but if you use a wireless extender or another type of solution to bring Wi-Fi to different parts of your home, then you can take advantage of the improved speeds and performance provided by Ethernet!