Samsung devices have game recorder app built-in, but if you don't have one and have been looking for a video screen recorder, you have come to the right place. Following are the best apps to record screen for unrooted Android.
DU Recorder – Screen Recorder, Video Editor, Live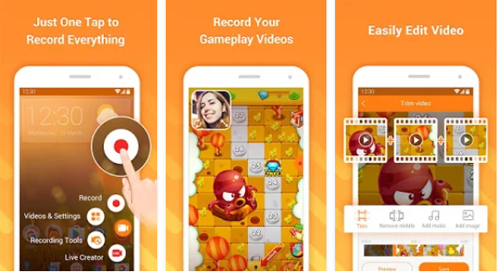 You will be more than just satisfied with this app. It comes with the full screen recorder, you can also record screenshots, live shows, games and etc. It is free to use and doesn't require rooting. All of this means that it is simply the best app of this kind on the Google Play.
Screen Recorder With Audio And Editor & Screenshot
This is another app which is more than just great for recording the screen at any given moment. The app comes with an editor, with the ability to record you while playing games and with smooth interface. It has been one of the most popular apps of this kind and it is special in the lack of a better word.
It is the simplest app of this kind and more than just appealing for those who have a need to record their screens. You will like the fact the app is completely free and comes without ads. This is rare nowadays. If your are using XiaoMi phone, you must enable Screen Recorder to access pop up window permission.
You will get an app which allows you to use banners, trim videos, text and etc. There are two engines the app used, a standard one and advanced. In addition, you also get plenty of additional features which are more than just useful and all of them are developed for screen recording.
Screen Recorder we have here is simple, easy to use and it comes with a great engine. You are going to appreciate the user interface and the simplicity. On the other hand, all major features are supported, so this is an excellent app.
Screen recorders allow you to create tutorials and so much more for free. Also, all of them are easy to use.