A yoga mat is a piece of equipment used primarily in hatha and other forms of yoga. They come in various lengths, widths, thicknesses and degrees of cushioning (or not). Mats are typically made out of eco-friendly materials such as jute or recycled rubber.
Yoga mats are an integral part of practicing yoga. They provide a cushion for your body during the poses and help keep you from slipping on wet or slippery floors.
Yoga is one of the ways to relax. Meanwhile, it is also necessary to have the best yoga mat for your yoga habit. A yoga mat is also an excellent addition to your fitness routine, providing cushioning and support for your joints during strength exercises.
4 Types of Yoga Mats
There are many different types of mats that offer varying degrees of comfort, portability and sustainability. The four main categories include:
Rigid Yoga Mat – These mats provide the most stability and can sometimes be used as another piece of equipment in classes like Ashtanga or power vinyasa. They typically have extra padding on top but tend to be heavier than other options.
Foam Mat – These mats are often lighter weight, shorter (mat usually measures between 12″x24″) and more affordable compared to some alternatives. What they lack in size and stability, they make up for in portability.
Thick Yoga Mat – This mat is a little heavier and often not as portable due to its size but offers superior comfort over other options.
Thin Yoga Mat – These are the lightest option available with no durability or cushioning benefits . They're also prone to slip out of place during poses that require balance like tree pose and headstands when used on hardwood floors.
The type of yoga mats you choose will depend largely on your personal preferences as well as their intended use (whether it's at home vs studio).
9 Types of Yoga Mat Materials
Are you curious about which one is best for you? The following are 9 different types of yoga mat materials you can choose from.
TPE Yoga Mat
Thermoplastic Elastomers yoga mats are crafted from a polymer, which is a plastic-type that has elastic and thermic properties. This material can be extruded, molded, and reused easily. Meanwhile, this TPE material is not recyclable. It is easy to care for and clean.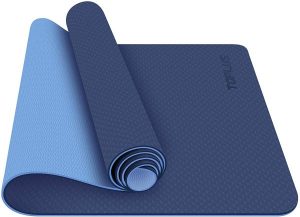 The TOPLUS 1/4 inch thickness yoga mat double-sided sticky non-slip texture provides excellent traction and superior grip, best suitable to practice many forms of yoga. Non slip on wood floor, tile floor, cement floor that you can be stretched repeatedly providing superior durability, cushioning.
Natural Rubber Yoga Mat
This mat is made with natural rubber from rubber trees. It comes with an excellent grip, eco-friendly and comfortable. This mat also comes with antimicrobial properties. It is durable but heavy and takes a long time to dry as it gets wet. It is comfortable on the body.
NBR Yoga Mat
NBR is a synthetic rubber used in the aeronautical and automotive industry. This mat can offer nice cushioning and insulation. However, the manufacturing of NBR is not environment-friendly. Its manufacturing is limited in the USA, Europe, and Canada because of toxic substances used to make it, like Butadiene.
PVC Yoga Mat
It is crafted from PVC resin powder. If you want a lower cost yoga mat, this type is for you. It can provide you with non-skid coatings, resistance to moisture, and thick cushioning. This yoga mat can give high functionality and comfort.
EVA Yoga Mat
Ethylene-vinyl acetate yoga mat has resistance to cracking and moisture. It is lightweight and easy to clean. However, it may contain undesirable odors and chemicals.
Cork Yoga Mat
Usually, a cork yoga mat has one side made of cork and one from another material to make it non-slippery on the surface of the floor. Cork is a natural made from the oak tree's cortex.
Jute Yoga Mat
Jute yoga mat comes with one side of jute and the other of PER or PVC. Jute is a fiber from the Corchorus genus.
Wool Yoga Mat
This type of yoga mat is perfect for calmer yoga types like Mantra yoga, Kundalini yoga, Meditation, and Relaxation. Wool is a sustainable and organic resource that has a low impact on the environment.
Cotton Yoga Mat
Cotton production comes with a high impact to the environment because of the use of fertilizers, pesticides, and huge water amount. Additionally, it also needs herbicide glyphosatethat has potential risks to the environment and human health. With this, it is important to use organic cotton as an alternative.
What do you think is the best yoga mat material for you? Choose the right one for your needs.