Doing crafts is a relaxing hobby. However, it can be challenging if you're a newbie in hand embroidery. Worry no more because we will reveal to you the list of the 5 best tools for hand embroidery newbies.
Hoops and Frames
If you're a newbie, it is advisable to have an embroidery hoop. It can keep the fabric tight, so your embroidery will not be warped. Even though it's not needed for all types of stitching, it can be a helpful tool for newbies. In addition, you can also use embroidery frames like slate, stretcher bars, and scroll frames. These frames can hold the fabric tightly. However, the hoop is more affordable and portable.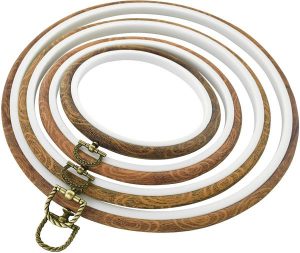 Embroidery Hoop Frames by Celley
4 pcs round hoops with vintage look design work as great looking frames for your embroidery and cross stitching handicrafts
4 different sizes, outer diameters 5.5″, 6.9″, 8.6″ and 10.2″
Each round hoop features an antique hanging brass ring ideal for hanging and displaying your cross-stitch art or wall decorations
Looks like real wood – no need to have your projects professionally framed
Needles
Needles are among the basic tools in embroidery. There are different types of needles, so choose the right type for the job. Among the recommended needle types for newbies include tapestry needle, crewel needle, and milliner needle.
Magnification and Light
Take note that proper lighting is important to transfer embroidery designs. You can buy at sewing and craft stores for your lighting needs. If you have a sunny window, then you can have proper lighting for free.
On the other hand, you can also use a magnifier to enjoy embroidery without straining your eyes. It can help for improved detailed work, needle painting, and miniature embroidery, allowing you to stitch easily.
Embroidery Scissors
Embroidery scissors are not like regular craft scissors. An embroidery scissor is smaller and comes with thinner sharp blades and pointy points. With this tool, you can cleanly cut threads to the ground fabric. Usually, embroidery scissors come in 3.5 to 4 inches in length. The scissors can have blades of about 1 to 2.5 inches long.
Smart Storage
If you're new to embroidery, you must have smart storage. With this, you can keep your tools organized. You can prefer transportable and light containers as a smart choice. Make sure to choose mesh bags with zipped for instructions, hoops, and threads. It is also advisable to slide your pointy scissors into the sheath for sharpness protection. You must also keep your needles in a needle book.
There we go, so that is the list of the 5 best tools for hand embroidery newbies. With these tools, you can enjoy more of your embroidery and make the best results. It can help you to enhance your embroidery skills.