Android apps can replace your Xerox machine! These 7 android scanner apps can be used to turn images into text or PDF documents. There is no need for a Xerox machine or a printer scanner; your Android phone can do that job for you. With these Android apps, all it takes is a quick point and tap, to capture and scan any documents you have lying around. These apps will be especially useful to students or officer workers, who deal with a lot of documents every day. Start digitizing your physical documents with these 7 scanner Android apps.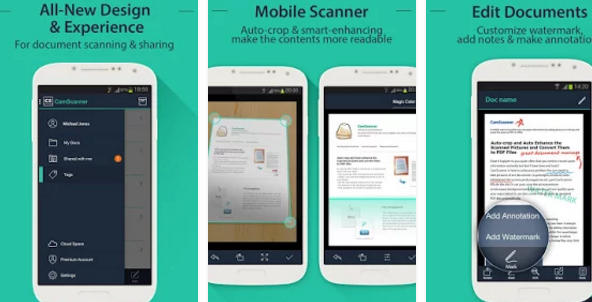 Google offers very bare bones scanning app; it may be simple, but it does get the job done. And if you need access to your files all the time, they are on the cloud. Any scanned pages taken through this app will be automatically uploaded to Google Drive.
A do it all app that fulfills many different functions. This Android app can also function as a document scanner. It is perfect for students or people who take a lot of notes. Use it to scan your notebook or textbook to have the pages scanned and saved. This app also offers a ton of neat organizational tools, like letting you create notebooks of your scanned items.
Scanbot – PDF Document Scanner
A no frills scanner app for Android. It can connect with other cloud services to save your scanned documents. Let it connect to Microsoft One Drive or Google Drive, and you will gain access to all of your documents through ScanBot.
Nothing is faster than CamScanner! Like the name implies, all that you have to do is to point your camera towards something and then it will be immediately scanned. It is very hard to beat the speed that CamScanner boasts. It can even automatically identify and organize the type of document you have taken. For example, it can distinguish and separate documents and receipts. This allows for easy organization.
Another official app from a major software developer, this time, it is from Microsoft. If you are a heavy Microsoft user, such as users of One Drive, then you should seriously consider using this app. It has native support for uploading and accessing your scanned documents on Microsoft's One Drive. This allows you to instantly import and export documents you may have scanned previously on this app.
This Android scanning app reads documents and then scans them to turn those documents into PDF files. If you need an easy and quick way to create shareable PDF files, then Genius Scan cannot be beaten. It can group scanned pages into a single PDF file, allowing for easy management of multiple saved documents.
A good all-around performer, TinyScanner checks many of the items on any checklist. It has got speed, as it scans quite quickly. It can adjust the contrast of the images it takes. It lets you create PDF files, and you can even connect to cloud services too. TinyScanner is a good choice as a jack of all trades scanner app.