Fraudulent websites are a serious problem. In fact, they're the second most reported crime in the world, after identity theft. But don't worry: there are plenty of ways to check for fraud online and avoid it altogether.
What is Online Fraud?
Online fraud is a crime that occurs when a person or group sets up a fraudulent website and tries to convince people to give them their personal information.
People often fall for these scams because they think it's really the site they're looking for.
The perpetrator might offer something like a prize, but instead of sending the prize, they steal your credit card information.
Everyday there are tons of online shops and new sites popping up and it can be really hard to tell the trustworthy ones from the dodgy ones. Here are five ways you can check whether or not a site is legitimate:
7 Ways To Check The Site For Fraud Online
Here's how you can spot fraudulent sites before you get scammed:
Check the URL
If you're not sure if a website is legitimate, look at its URLs (both the main one and the subdomain). For example, if it's something like "stores-locator-online.com," then it's probably not the right website.
Check the Name
Double check the site name against other places you might recognize it, like in search results or newspaper articles about the company. If you're still not sure, it's probably best to avoid that site altogether.
Check the Site Type
Hover over links on a webpage to see if they actually go where they say they'll go – it could be a fake link created by hackers.
Look for HTTPS and TLS/SSL Certificates
A secure, encrypted connection is another indicator of legitimacy when looking at websites ([see background knowledge]).
Check Social Media Profiles
Sometimes scammers create social media profiles that look just like legitimate ones – but they're not! Verify a site's social media profiles in order to see if the business is legit.
Check the Site on TrustPilot

TrustPilot is an online review website where users can write reviews for businesses. They review the business and its products or services, and may also rate it on a scale of 1-10 stars. The company has over 3 million reviews submitted by visitors who have used the site. Reviews are public, but can be made private by request. Companies cannot pay to change their ratings.
The website will ask you for some personal information, like your email address and telephone number, before you can post a review. You'll then be asked about your experience with the company or product, what the good points are, what you weren't so happy with, how often you've used it or deal with them, and if you'd recommend them.
You'll also see the area on the page to write your review, plus an option to upload photos of your own.
Once you submit your review, it goes through TrustPilot's algorithms for authenticity before it appears online. There are some people who might be removed from reviews because they don't seem like a real person, such as the same user posting the same review over and over again.
Every business has a percentage rating based on its TrustScore, which starts at zero. This is calculated by adding together all of the average score for each year it's been registered.
The company can also use their TrustScore to highlight how many reviewers thought they were outstanding (84% or above), good (70-84%), okay (50-69%) or poor (below 50%).
The site also displays the average score for each category, listing what they are on the business's profile.
Use WebMoney Advisor
The WebMoney Advisor is a browser plugin created for WebMoney Transfer users.
WebMoney Advisor checks all websites opened in the browser on a regular basis to see whether they belong to WebMoney's internet community of resources. Sp a trusty worthy shop should be included in this community. The plugin helps to rate the safety of a site so that it's easier for users to choose the best online store or other resource.
WebMoney Advisor doesn't have access to any confidential information, because all the data is transferred using an encrypted connection directly between your computer and WebMoney Transfer servers.
Search for online reviews of the business
You can use search engines to find out if there are any customers who got scammed by the shop or business.
Use Google's "search tools" to find information about the site. Type in your search term, then click on "Search tools." Then click on "Any time," "Past week," or "Past 24 hours." This will help you see if there are any current bad reviews, scams, or complaints about the company.
Do a Whois lookup
Whois is a service that assists in the identification of domain names and IP addresses for registration, provides contact information for registrants and points to the name servers and web page for the domain.
It is a free, online directory that lists information about domains, such as:
who owns the site
when it was created
when it will expire
the registrar company
the registrant company's name, address and phone number
Users may use this data to identify and track down the person who committed fraud.
Look for contact information on the site
The best way to report a website or company that you suspect is involved in online fraud is by using contact information that's available on the site. If there's no contact information listed, then you can search for their social media pages and other places where they might be active online. Once you find them, you can describe your concerns and grievances and see what they do.
If you can't find any contact information, it's best to report the site to Trustpilot or another consumer review website so that other users looking for a safe shop or company know not to use it.
Install Web of Trust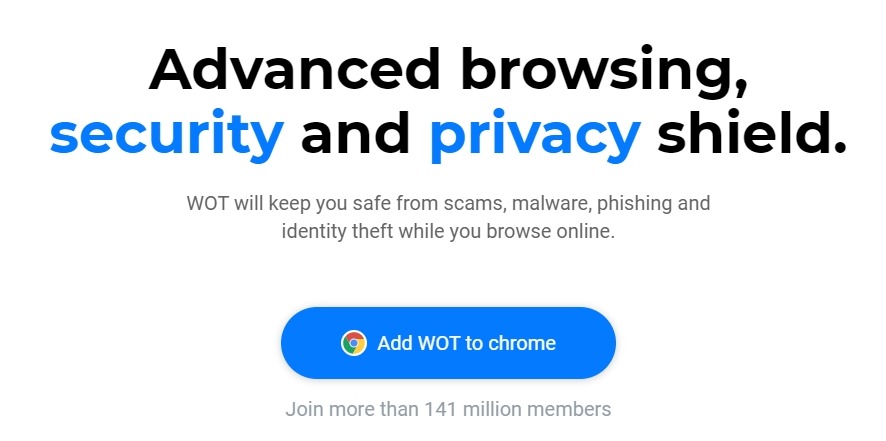 Web of Trust is a browser extension that ensures your online activities are not only safe, but secure. It offers protection for private data and websites through three different security mechanisms:
SiteCheck: the plugin checks the level of security and safety of any website you visit, and provides a rating (A-F) and explanation why it was given the rating.
WOT: this protection helps to filter out unsafe websites. Web Of Trust has an integrated blacklist of malware sites and domains to help you stay safe even when browsing unknown or untrusted sites.
Secure Browsing: coverage that offers complete protection against harmful programs such as spyware, adware, Trojans, phishing sites, dialers, viruses, worms, and keyloggers.
Once you install the plugin, it not only protects your browser but also helps you make smarter choices based on other users' contributions to the Web Of Trust community.