In recent years, the parking lot industry has experienced significant advancements in monitoring technology. These innovations are transforming how parking lots are managed, improving efficiency, safety, and customer satisfaction.
Some parking lots have video cameras that record everything that happens there. These recordings are saved in a digital format for security reasons. By using a special computer program, the cameras can also recognize license plates and help with parking management.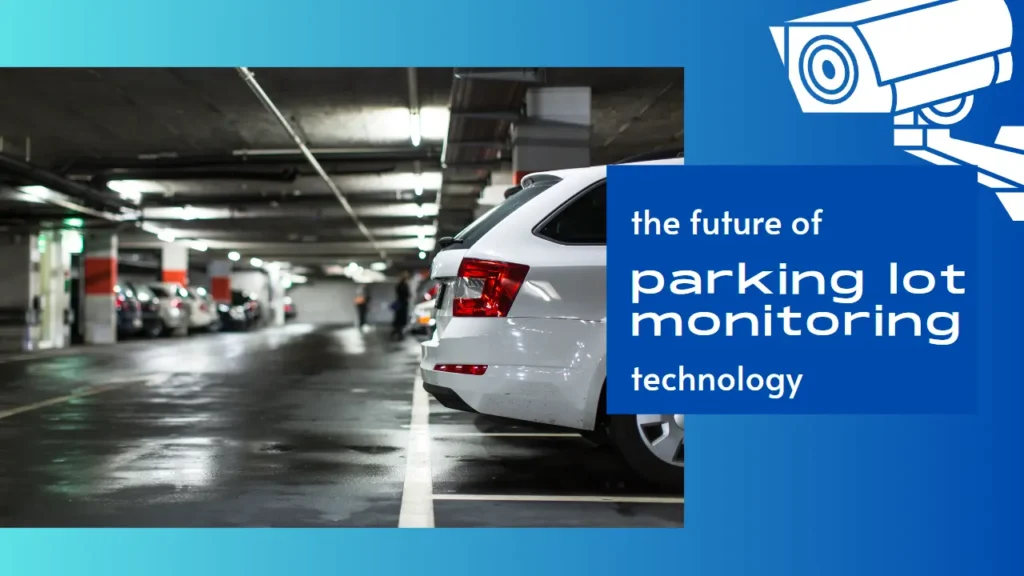 As we look to the future, we can expect to see even more cutting-edge technologies that will enhance the parking experience and streamline operations.
Automated License Plate Recognition
Automatic License Plate Recognition (ALPR) is a technology used in parking lot monitoring to capture and read license plate numbers of vehicles entering and exiting the parking lot. The system uses cameras and software to capture images of license plates and then processes the images to extract the alphanumeric characters on the plate. This information is then stored in a database for future reference.
ALPR technology has several benefits in parking lot monitoring.
It helps to improve security by identifying vehicles that are not authorized to enter the parking lot.
It helps to reduce fraudulent activities such as ticket swapping or using fake tickets to enter the parking lot.
It helps to improve the overall parking experience by reducing the time taken to enter and exit the parking lot, as well as reducing congestion and improving traffic flow.
Market research shows that the ALPR industry was worth $774 million in 2019. Experts predict that this industry will continue to grow, reaching a revenue of $1.89 billion by 2027. The trend of using ALPR is already happening in major cities across the United States and Europe. Meanwhile, countries like China have been using similar technology for many years.
AI-powered Cameras and Sensors
Artificial intelligence (AI) is a cutting-edge technology that holds immense promise in a wide range of applications. One area where AI is proving to be particularly useful is in the management of parking lots. By harnessing the power of AI-powered cameras and sensors, parking lot managers can now monitor their lots in real time, providing a wealth of valuable data that can be used to optimize the parking experience for customers.
An AI-powered parking lot management can detect parked vehicles and identify their license plates. This information can be used to track the movements of individual vehicles, monitor occupancy levels, and identify underutilized spaces.
AI-powered cameras and sensors can even determine the make and model of each vehicle, providing even more valuable data for parking lot managers to work with.
By leveraging this data, parking lot managers can optimize their lots to maximize efficiency and reduce the risk of unauthorized access. For example, if certain areas of the lot are consistently underutilized, managers can adjust parking policies or signage to encourage more use of those spaces.
Similarly, if occupancy levels are high, managers can take steps to ensure that customers are able to quickly and easily find available parking spaces.
Cloud Computing for Real-time Data
Another exciting development is the integration of cloud computing into parking lot monitoring systems.
With cloud-based solutions, parking lot managers can access real-time data from any location, providing them with the flexibility they need to make informed decisions wherever they are. This is an exciting development that offers a range of benefits to managers who need to stay on top of their parking operations.
They facilitate automatic updates and maintenance. This reduces downtime and improves the overall reliability of the system, ensuring that critical parking management functions remain consistently operational. In addition, cloud-based systems are often more secure than traditional onsite solutions, offering enhanced data protection and compliance with industry regulations.
Cloud-based parking lot monitoring systems can help to reduce costs and improve efficiency. By providing managers with real-time data, these systems allow managers to make data-driven decisions that enhance their parking management strategies. Improved efficiency can also lead to a reduction in operational costs, as managers can use real-time data to optimize their staffing levels and other resources.
Monitoring via Mobile Apps
In recent years, mobile apps have emerged as a popular tool for managing parking lots. With the advent of these apps, customers can now reserve and pay for their parking spaces with ease, reducing wait times and enhancing their overall parking experience. These apps offer real-time updates on parking availability, enabling drivers to quickly locate open spots and avoid congestion and frustration.
The benefits of mobile apps for parking management are numerous. For instance, they allow parking lot operators to streamline their operations, reducing the need for manual ticketing and payment processing. This, in turn, can lead to cost savings and increased efficiency. Moreover, mobile apps can help parking lot operators to better understand their customers' needs and preferences, enabling them to tailor their services accordingly.
As the use of mobile apps in parking lot management continues to grow, it is likely that we will see even more innovative solutions emerge. For example, some apps are already using advanced technologies like machine learning and artificial intelligence to optimize parking lot operations and improve the customer experience.