One of the most renowned third party game development software all over the world is the Unity engine. Unity supports development for each major platform; for desktop, mobile, console, AR, VR, and Web. Unity is utilized for creating games as well as other apps, interactive stories, ads, arts, film, visualizations, and a whole lot more. Here are the top 10 games made in Unity.
Cuphead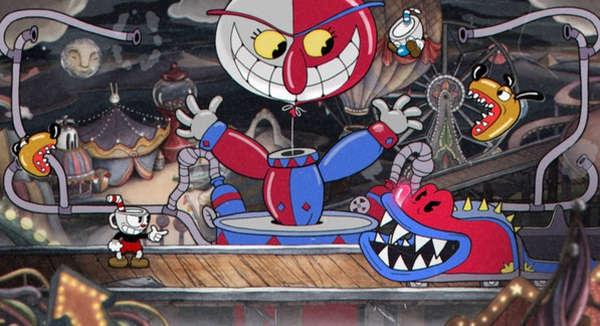 This is a very popular run and gun action game based on the traditional style of the 1930s cartoon. This was obtained by hand-drawn animation, as well as watercolor settings, and the flashy soundtrack was recorded live in the studio. It is a visually beautiful game ever produces with Unity.
Monument Valley 2
This game is entirely made on 3D assets. However, when seen in the lens of similar objects, the objects come up as two dimensional to the gamers.
Rick and Morty: Virtual Rick-Ality
This is Unity's first venture into changing 2-dimensional cartoons into 3-dimensional interactive universes. The gamers get into the game as a clone of Morty, discovering Ricks's garage as well as experiences all the foolishness in the show.
Inside 
This is a popular puzzle-platformadventure game, which was made and published in 2016 by Playdead studio. To playthe game, you need to control a boy in the dystopian world by solving theenvironmental puzzle and trying to keep alive.
Oil and the Blind Forest
This game is a about a youngorphan in a deeply touching story about sacrifice, love, and hope which existsin us. It is a stunning action platformer that features hand-painted artwork,orchestrated score and carefully animated characters.
Heartstone 
This is a popular collective deckgame that surrounds online matched between two players. They get a set of cardsand get more advanced expect cards by buying card packs using earned gold orreal money.
Cities: Skylines 
Cities: Skylines focus onrealizing the thrill and hardship of building a city and keeping a real citywhile expanding on well-established tropes of the capital developingexperience.
Deus Ex: The Fall
This is the first installment of the Deus Ex series that hit the mobile world. It is a cyberpunk action RPG video game ever made.
Assassin's Creed: Identity
This is one of the best games with Unity. It allows players to make, develop, and customize their assassin and enable them to play in the most renowned AC settings or battleground, the Italian Renaissance. This Unity game was made for iPad3, iOS7, or iPhone 5 and many other operating systems. If you are already tired of the usual type of game, you must give it a try.
Battlestar Galactica Online
This is a popular browser game based on the Battlestar Galactica TV series. It is a massively multiplayer game wherein players take control of a spaceship and combat other players to level up and rank high.