At WWDC, Apple has announced a redesigned MacBook Air. The new Air comes with an M2 chip and a MagSafe connector. The design is similar to that of the 14-inch MacBook Pro, but it is thinner and lighter.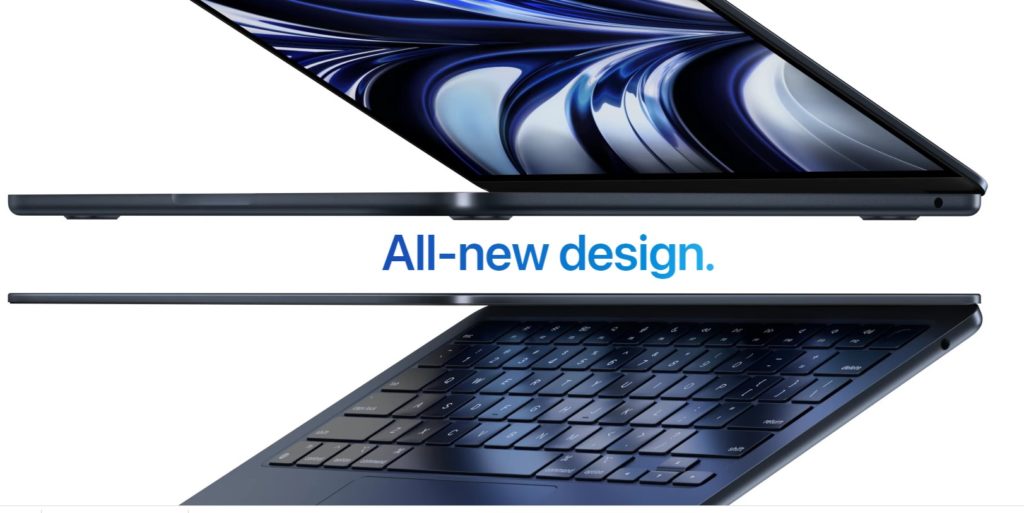 The new line of 2022 MacBook Air is here and they've got a lot of changes! The M2 processor means more power for your work, with twice the speed in 4K video editing.
It also has MagSafe charging so you can safely park it on its side without worrying about damaging anything else nearby or getting an electric shock from touching metal objects near the socket (which would be embarrassing).
Two Thunderbolt USB ports let users connect all sorts of devices while still having extra room left over thanks to their slim design – this means longer life spans as well because there's less stress put onto these parts due to being constantly filled up. There is also a headphone jack.
The sleek and lightweight design of the MacBook Air makes it a perfect companion for your travels. This laptop is just 11mm thick, which means you can carry one in any bag without worrying about bulk! It also weighs 2 pounds – so even if there's an unexpected situation on the go, this tech toy will be waiting right at hand when needed.
The new MacBook Air 2022 will be available in three colors – silver, space grey, "midnight" blue, and "starlight" gold. One nice touch is that each model includes a braided MagSafe cable to match the colorway of your choice.
The laptop will be available in July. The product page has been live for a while but Apple isn't accepting orders.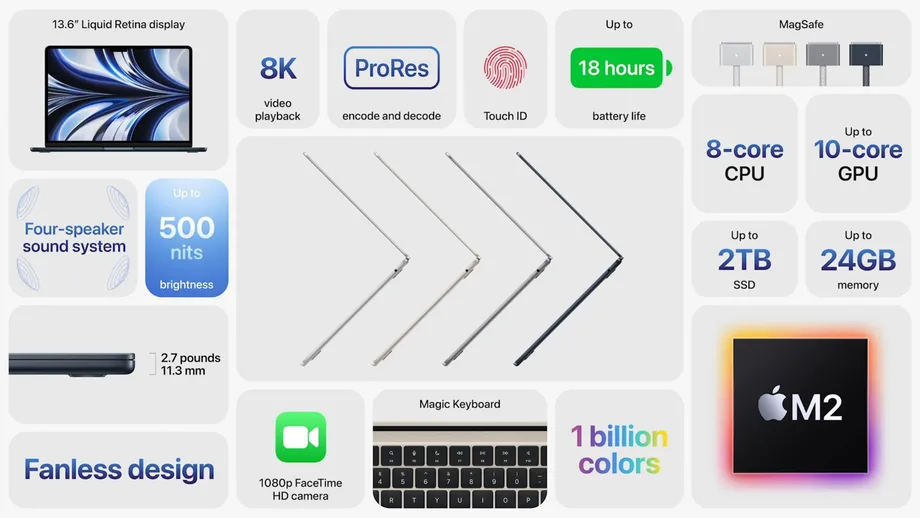 The starting $1,199 MacBook Air M2 specs:
CPU/GPU: 8-core M2
RAM: 8GB
Storage: 256GB
The $1,499 MacBook Air M2 specs:
CPU/GPU: 10-core M2
RAM: 8GB
Storage: 512GB
RAM and storage space are customizabl3, with each model capable of supporting up to 24GB of RAM and 2TB of storage.
The new MacBook Air is a sleek and stylish laptop with impressive performance. With a larger 2560×1664 13-inch display and smaller bezels surrounding it, you can enjoy up to 500 nits of peak brightness without any problem!
It features an all-new silent fanless design which will make for some impressive performance gains as well depending on the app in question but doesn't worry about being able to hear anything because this model does not have audible sounds coming from its internals at all either so get ready!!
The new 1080pp FaceTime HD webcam on this MacBook Air means you can enjoy high-quality video chats with your friends. It also comes equipped to take boasts in amazing clarity, thanks to the improved mic and speaker technology that supports Dolby Atmos!
A 30W charger comes with the laptop. But you can also buy the new $59 67W power adapter from Apple allows your MacBook Air to charge quickly and efficiently, reaching 80-percent in just 20 minutes!