This is to connect several cells together and separate them with a comma.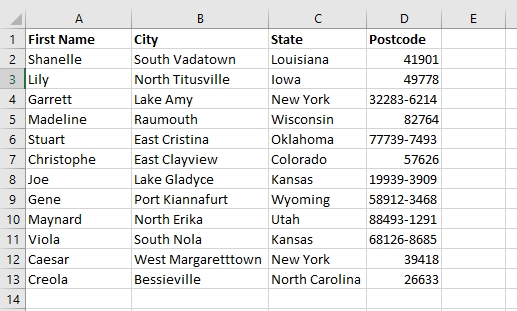 Use ampersand operator and and SUBSTITUTE function
Ampersand (&) operator is used to join values of defined cells. If the number of cells is limited, use this operator is fast.
After connecting cells with & operator, we use SUBSTITUTE function to replace certain text with a comma. In our case, it is blank space.
=SUBSTITUTE(A2&" "&A3&" "&A4&" "&A5&" "&A7&" "&A7&" "&A8," ",", ")
Result
Shanelle, Lily, Garrett, Madeline, Christophe, Christophe, Joe
Use TEXTJOIN function
This is a new function available in Office 365 and Excel 2019. It can concatenate a range of cells with a delimiter.
=TEXTJOIN(", ",TRUE,A1:B3)
Result
First Name, City, Shanelle, South Vadatown, Lily, North Titusville