Do you want to know what version of WordPress you are running? It is important to regularly check your WordPress version because it can be prone to hacking. This post will show you how to do just that!
Why we should know WordPress's current version
WordPress is a blog platform and content management system that was created by Matt Mullenweg. WordPress is open-source and currently offers over 50% of the sites on the internet today! WordPress can be used for anything you want to create…from blogs, to online stores; it's up to your imagination what you use this platform for!
Knowing the current version of WordPress is important. It allows you to know what security updates are out for it and will keep your site from being hacked. If you have a troublesome plugin on your site then knowing how old that plugin is can also tell you whether or not they even offer support anymore! This post will show you how to find this information easily with some simple steps.
How to check your WordPress version
Via Dashboard
The first thing you will want to do is log into your WordPress dashboard.
Once logged in, click "Updates" on the left-hand side of the screen. This is where you can see which version of WordPress you currently have installed as well as if any updates are available for it or not.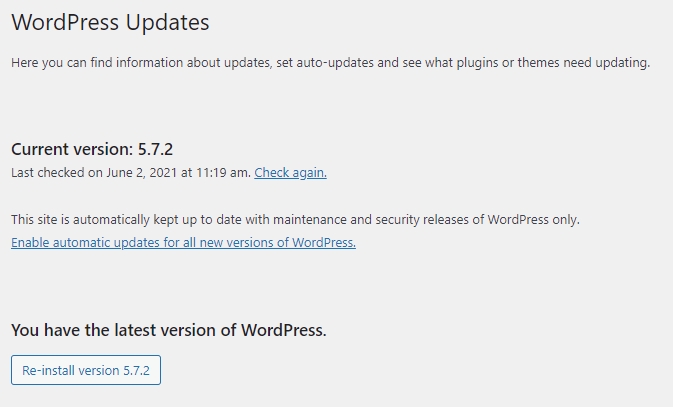 If there are security updates available then they will be automatically downloaded and updated without any input from yourself!
You can also manually update by clicking the button that says 'Update Now'. If neither option has an additional note next to them than no other updates need to be done at this time but keep checking back frequently! You never know when a new release could come out with some important bug fixes or even just stability updates.
Via HTML tag
WordPress includes the current version in different places too. If you access a website powered by WordPress and view its source code, you can check its version in some HTML tags.

//in meta generator
<meta name="generator" content="WordPress 5.7.2" />

//in css or script link's query parameter
http://localhost/wp-includes/css/dashicons.min.css?ver=5.7.2