The android mini pc is a small device that is capable of running the Android operating system to run your favorite apps and games. A few things to look for in a good Android USB stick are the price, storage size and the way the company builds their product. You also want to make sure that it is user-friendly so you can easily get around your devices. The Android mini PC is available in several different form factors, but when you boil them all down, they are basically just USB sticks. While they are mostly the same in terms of functionality, there are some differences.
There are many quad-core android mini pcs out there so choosing the best one is hard. Let's take a look at the Ug007B; I have in the past used other versions of Android mini pc, all aimed at turning your ordinary TV into a Smart TV or PC, but have found that this device is ticking all the right boxes for me.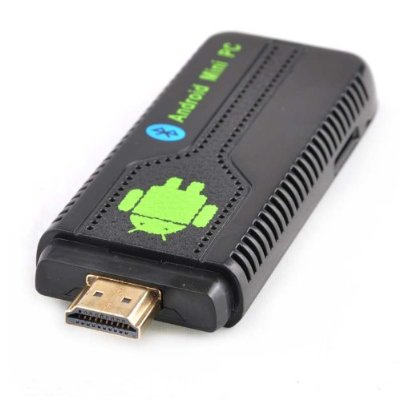 What are the specifications for the Ug007B:
Already installed with Google Android 4.2
Already installed with Google Play
Wi-Fi connections
Built in Bluetooth 2.1
Supports wireless mouse, keyboard or remote controller
HDMI out 1080p
2 GB Ram
16 GB Rom
Adobe Flash support
Rockchip RK3066 1.6GHz Cortex A9 Dual Core+ Mali400 GPU Quad Core
Supports Gmail
Supports social networking sites
Be able to watch videos via YouTube or online streaming sites
Supports PDF and E-reader
Supports up to 20 different languages from around the world
The one thing that is great about this device is that it is the only one of its kind which has Bluetooth capabilities, being able to link up a Bluetooth mouse and keyboard has made browsing the net and videos much easier to do. Of course you could just opt to use your Android phone or tablet, but they can still make it clumsy work. Another great thing that you can do with having Bluetooth is transferring files, you will need to make sure that the device is also compatible.
The Quad-core Android Mini PC Ug007B comes already to plug and play as it comes installed with the latest Android software, as well as Google Play; using your Google account you can start browsing the net, downloading apps, videos and music, with great results on image quality. Another advantage is being able to connect to a service like Netflix, simply log in using your account settings and you can start to watch streamed films and TV series. I have found that there is only slight glitches every now and then, but think that is more down to my internet and not the actual dongle.
I have found this device to be up among the best advancements in technology, being able to browse the web straight on my TV is really good, especially if I want to check things out like the latest football scores during the adverts. I also like to log on to my Facebook account and view my photos, or show them to family members that don't have an account; the kids have fun with the games they can play and there is no need for me to have loads of boxes cluttering up the place. In fact the dongle goes into the back of the TV and cannot be seen which is another bonus.
With so much going for the mini pc it is easy to see why I enjoying having this in my home, and at reasonable good prices (around $70), I have bought a second unit to use on the TV in my bedroom, and looking at getting them set up in kids room too, a cheaper alternative then having some satellite systems and computers installed tahroughout the house!