Rikomagic RKM MK902-16G Google Android TV Box Mini PC, Quad Core Cortex-A9 RK3188
The Rikomagic RKM MK902 is a Google Android mini TV box. The unit has 16G ROM, 2G of RAM, and also features an RK3188 Quad Core Cortex-A9 1,6GHZ. This product is designed to be compatible with Android 4.2 and higher.
In addition to providing Android television and viewing, this Rikomagic also includes a microphone built in, and a 5MP camera for taking photos while using the device. It also comes with an external antenna for WiFi, Bluetooth capabilities, and supports Miracast.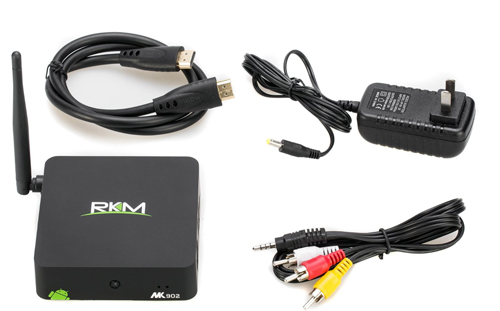 Click here to buy MK902
Pros
This box allows you to give your traditional television the capabilities of a Smart television. This means that you are essentially turning your TV into an Android computer when you attach the Rikomagic box, without the added cost associated with the newer Smart television technology.
This box comes with plenty of added features for a better user experience, including the built in microphone and camera. The camera is only 5 megapixels, but this works well for most applications.
The firmware included in the box can be updated as needed, which provides for long term functionality in an electronic genre that is rapidly changing. The unit has firmware that can be updated, and allows for the installation of custom ROMs.
The WiFi antenna also works well, even when the box is located several rooms away from the actual WiFi source. This unit also allows for use with Miracast connections.
Cons
The Rikomagic MK902 seems to have a lot of firmware issues that result in the need for rebooting every time it is used for downloading videos. Most users who had this problem were able to update or replace the ROM in order to eliminate the problem.
The software issues with this box require users to have some knowledge of how to address firmware issues, including how to use specific drives to flash the updated firmware, or customize ROMs to make the unit respond better.
Conclusion
Overall, the Rikomagic MK902 provides the functionality needed to turn a traditional TV into one with Smart TV capabilities. If you have the knowledge needed to address the firmware and ROM issues, this box is a great option. The added features like the 5MP camera and microphone, along with the Miracast support provides plenty of options for your Android based television – all at an affordable price compared to other options.
Click here to buy MK902 from Amazon.